China home prices continue to rise in July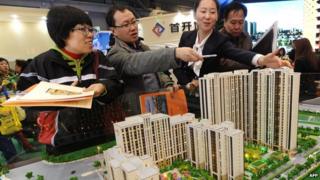 Property prices in China continued to rise in July, underlining the challenge the authorities face as they try to control the sector's growth.
Prices of new houses rose in 69 of 70 major cities, compared with a year ago.
China has unveiled a series of measures in recent times to curb speculation in the sector, amid concerns of asset bubbles forming in the country.
Analysts said that despite the curbs, demand for property investment remained high in China, driving up prices.
"Real estate is one of the few options available to Chinese looking to invest their savings," said Patrick Chovanec, chief strategist at Silvercrest Asset Management.
"And so far it has given lucrative returns, which means that even more people are lining up to cash in on the sector's growth."
However, he added that the continued rise was not sustainable in the long run as the properties were not generating the kind of returns that would justify the prices that people were paying for them.
He said that policymakers needed to come up measures to address the issue, in the absence of which there was a big risk of asset bubbles being formed.
Implementation concerns
China, the world's second-largest economy, has been trying to battle rising property prices for the best part of the past two-and-a-half years.
Fears of the formation of asset bubbles prompted the government to introduce various measures aimed at curbing speculation in the sector in 2010.
While those measures did help to bring down prices, they were followed by a slowdown in China's economic growth.
In an attempt to sustain a high growth rate, China eased some of its monetary policies last year. This included two interest rate cuts and lowering the amount of money that banks need to keep in reserve in an attempt to boost lending.
The moves saw property prices in China starting to rise again. As a result, Beijing announced a fresh set of measures on 1 March this year to try to keep prices in check.
But prices have continued to rise leading to concerns being raised, not least by the state-owned Xinhua news agency, on whether the restrictions announced by the government were being implemented properly,
A Xinhua report published last week said that "as revenue from land sales is an important contributor to fiscal incomes, local authorities have been acting reluctantly to implement central government policies, which have offset the effects of the measures".
Zhu Zhongyi, vice president of the China Real Estate Industry Association, was quoted as saying in the report that prices were likely to rise even further in many cities.
"The central government will face greater difficulties in capping real estate prices if it doesn't move to strengthen the responsibilities of local governments in coordinating housing supplies and stabilizing land prices," Mr Zhu was quoted saying by Xinhua.
Supply shortage?
Some analysts said the strict rules had resulted in a short supply of new homes, driving up prices.
The new measures include higher transaction taxes, restrictions on purchases of multiple homes in some cities as well as higher down payments.
"After the government unveiled the curbs in the residential market, many real estate developers shifted their focus on developing commercial projects," aid Shaun Rein managing director at China Market Research Group.
"That has seen the supply of residential property slow down drastically.
"But demand for new homes is still strong, especially from those looking to buy their first-home or upgrade to a bigger property," he added.
New house prices in Guangzhou posted the biggest jump, up 17% from a year earlier, while Beijing and Shanghai saw prices rise by 14% from a year ago, according to data released by National Bureau of Statistics on Sunday.
This is the third month in a row that new home prices have risen from a year ago in all but one of China's major cities.