Big five UK banks see profits rise but 'dangers remain'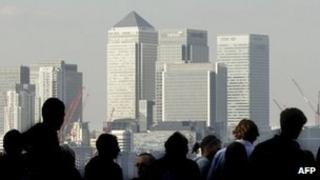 All five major UK banks recorded a profit in the first half of the year, for the first time since 2010, a KPMG performance report says.
But return on equity is at half pre-crisis levels and KPMG says the pace of regulatory change is holding back banking and economic growth.
It also warns that the next systemic shock may come from a cyber attack or outage rather than a liquidity crunch.
Its report looks at Standard Chartered, RBS, Barclays, HSBC and Lloyds group.
Lending up
The report says the banks' combined profits were £16.5bn, adding that "modest lending growth and falling impairments all show that the banking sector is starting to get back on track after the financial crisis".
Overall lending was up - including mortgage lending up by 0.8% or £5bn - and customer deposits grew by 6%, or £135bn, during the period.
But KPMG says the banking industry is now having to adjust to a post-crisis world.
An example of that is the fact that return on equity has roughly halved compared with 2005 levels, from nearly 20% to less than 10% now.
And one-fifth of first-half statutory profits were wiped out by the continuing need to set money aside against PPI claims (£2.3bn) and interest rate hedging products (£700m).
"While it is great that the most recent bank results are in the black, there remains real uncertainty on the shape of their business models in the future," said Bill Michael, EMA head of financial services at KPMG.
'Hacktivist' revenge
He added: "The fear is that we will end up with a UK banking sector with very narrow choice, where individuals will not be able to get the products they need. We have to get the balance right between prudence and growth."
The KPMG analysis also suggests that the next systemic shock to the economy "could come from an, as yet, unforeseen event, such as a massive systems outage or a new breed of cyber attack".
It says that after years of improvement, UK banks suffered a 12% increase in online account fraud last year.
The report adds: "Furthermore, the motivation for cyber assaults is shifting, from financial crime to political and ideological attacks, with the number of state-sponsored hacking and 'hacktivist' revenge incidents growing."