Clamp down on financial consultants, says US regulator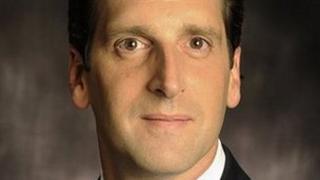 Lawmakers need to clamp down on the use of consulting firms by banks, says New York's state banking regulator, Benjamin Lawsky.
"The problem is, who regulates the consultants?" Mr Lawsky told the BBC.
He says he is concerned that consultancy firms may not always be fully independent.
His proposals are the latest challenge to the multi-billion-dollar industry, which has also come under fire in Washington.
Mr Lawsky, who was appointed in 2009 as New York state's first Superintendent of Financial Services, has already gained a reputation for toughness.
In 2012, Standard Chartered was fined $667m (£439m) by New York and other regulatory authorities for breaching sanctions with Iran and three other countries.
Allied to this, earlier this year, Deloitte Financial Advisory Services agreed to a one-year suspension from doing new consulting work for financial firms in New York state.
Deloitte also agreed to pay the state of New York $10m.
Mr Lawsky criticised Deloitte for its consulting work at Standard Chartered on anti-money-laundering issues.
"Deloitte really, in our view, failed in that case," he said.
In a statement, Deloitte said it was "pleased to be working productively" with the regulator "to establish best practices and procedures that are ultimately intended to become the industry standard" for consulting in New York state.
'Aggressive and smart'
In the past, independent consultants hired to help banks handle regulatory issues would "often get very close with the institution who they are supposed to be helping to clear up", he told BBC World Service's Business Daily programme.
The consulting industry, which includes some of the world's largest accounting firms, has defended the quality and independence of its work.
While US consultancies declined to publicly comment on Mr Lawsky's plans, a British firm, PA Consulting Group, said state regulation was "not the answer".
"A government or state-oriented scheme saying, 'This is a rule book which you have to apply,' would be extremely difficult to apply," said Andrew Hook, the chief operating officer of PA Consulting.
A stronger voluntary code of conduct would ensure the outcome that regulators were looking for and would ensure the independence of consulting industry, he said.
However, Mr Lawsky is unlikely to be deterred. New York state would be "aggressive, fair and smart" about the way it regulated the financial industry, he said.
While he is just a state regulator - albeit for New York, the home of Wall Street - he said this gave his department an advantage over Washington-based federal authorities.
"Often state regulators can sometimes move a little more nimbly because we're smaller," he said.
"In the US, at least, we've found that can sometimes be a helpful thing for, ultimately, the setting of federal and even international policy."