Post Office workers strike over bank holiday weekend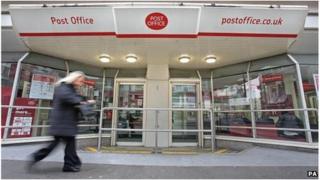 Post Office workers will stage a 48-hour strike over the August bank holiday weekend.
The Communication Workers Union (CWU) said its members will stage the walkout in an escalating row over pay, jobs and closures.
The action will be the 10th and 11th strike days in what is now a five-month dispute.
CWU deputy general secretary Dave Ward said "Enough is enough. It's time to resolve this."
A stoppages will be nationwide on 24 August , with staff in Scotland striking again on August 26. Workers in England, Wales and Northern Ireland will then strike the 27th.
The long-running row centres on the Post Office's plan to franchise or close more than 70 Crown sites, which are the larger branches usually found on high streets.
Mr Ward said: "Crown Post Office workers do not agree with management's slash and burn approach and are prepared to take prolonged industrial action to defend jobs and services and win a fair pay rise."
"This is a company which made £94m profit last year, paid out £15.4m in bonuses to senior managers and gave its chief executive Paula Vennells a 37% increase in her earnings to £697,000, while frontline staff face job losses and pay freezes," he added.
The CWU said the strike action will affect up to 4,000 staff working in 372 Crown post offices. Staff voted by nine to one (88%) in favour of the stoppages.