L'Oreal to buy Chinese skincare firm Magic Holdings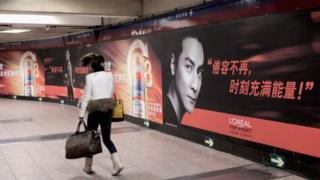 L'Oreal, the world's biggest cosmetics maker, has offered to buy Chinese skincare firm Magic Holdings International.
L'Oreal will pay $6.5bn Hong Kong dollars ($843m; £539m) in cash for Hong Kong-listed Magic, the companies said in a joint statement.
Shares of Magic surged 21% when trading resumed on Friday.
International companies are looking to take advantage of the growing luxury market in China.
L'Oreal, which has brands such as Garnier and Lancome under it, said it would offer HK$6.3 per share for the Chinese company. That is a 25% premium on the closing price from the previous day.
Magic Holdings, based in Guangzhou, is famous for its facial masks. The company generated $150m euros (£128m) in revenues in 2012.
The deal still needs approval from China's Ministry of Commerce, L'Oreal said.