Retailers see huge rise in sales of summer items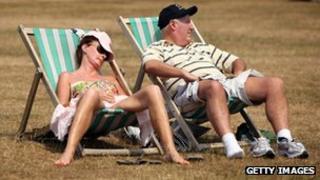 While the UK sweltered under the first prolonged heatwave in seven years last month, it wasn't just sun cream, barbeque meat and alcohol that were flying off the shelves at the country's retailers.
Several High Street retailers reported some quirky facts, mixed in with the higher demand for the obvious summer must-haves.
As temperatures remained above 30C for several days in a row, John Lewis said that in the week starting 15 July, its stores sold a fan every 30 seconds.
But even as sales of fans and portable air conditioners at John Lewis rose by 3,000% and 2,100% respectively, demand for outdoor heaters also rose.
With people looking to stay outside well into the cooler night hours, John Lewis said its sales of outdoor heaters were up by 132%.
Heatwave quirks
John Lewis said portable chargers for mobile phones tripled, as people spent longer outside.
For its part, Tesco said it had seen a 25% rise in sales of blueberries this summer. The supermarket chain said this was down to blueberries becoming a snack item as well as a dessert food.
Also, as the sun baked gardens across the country, John Lewis saw sales of artificial turf rise 29%. The same retailer also booked a 30% rise in the sale of fake flowers.
Tesco said that while there had been an increase in sales of garden play equipment across the board, trampolines had done especially well.
Trampolines have overtaken swings and slides to become the UK's most in-demand garden play equipment.
Tesco said in the last five years, sales of trampolines had jumped by 200%, because prices had plummeted.
When trampolines were first widely available on the High Street 10 years ago, they cost about £400, plus a further £200 for a safety enclosure.
Tesco now sells an 8ft trampoline with a safety enclosure for £99.
While retailers reported at least double-digit percentage rises in suncream sales, it also seems many of risked staying out in the blistering sun too long.
In the last week of July, Asda reported sales of after-sun lotion up 281%, while sales of aloe vera were 158% higher.