New home starts in England rise by 6%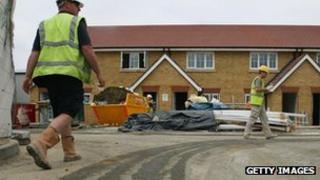 The number of new homes being built in England rose by 6% in the three months to June, according to the government.
The figures were boosted for the first time by the Help to Buy scheme, which started at the beginning of April.
On an annual basis, construction work started on 110,530 new homes, a 7% increase on the previous year.
But critics warned that the number of new homes being built is still far smaller than the country needs, and lower than it was before the recession.
In March 2006, a recent peak, 183,000 homes were being built in England.
But the government insisted that the situation is improving.
"Today's figures clearly show government action bringing confidence back into the housing market and getting Britain building again," said Communities Minister Brandon Lewis.
Demand
Following the announcement, the employer's organisation, the CBI, called for improvements in the planning system, in order to get houses built more quickly.
"We've been falling woefully short of building the homes we need for decades," said Rhian Kelly, the CBI's director for business environment policy.
"There's huge pent-up demand which is just not being met - from first-time buyers and from second-steppers looking to get on the next rung of the ladder," she said.
The housing charity, Shelter, called for radical action to tackle what it calls the chronic shortage of homes across the country.
"While the government may trumpet these figures as a growth story, what they really show is that we are still building less than half of the 250,000 homes we need each year to meet demand," said Kay Boycott, Shelter's director of communications.
Help to Buy
The latest figures, from the Department for Communities and Local Government, reflect different rates of house-building in different parts of the country.
Housing starts have been strong in areas that include the M5 corridor between Devon and Worcestershire, north of the London green belt, Leicestershire, south Lincolnshire and Cumbria.
Starts have been "generally low" in areas that include a band running from Birmingham up to Manchester and spreading to North Yorkshire.
Eastern parts of Kent and Norfolk have also seen less house-building.
House construction is expected to rise further in the months ahead, following the launch of the government's Help to Buy scheme.
Earlier this week, it was announced that 10,000 people had applied for new homes under the scheme since it began in April.
It enables home-buyers in England and Wales to afford a house or flat, with the help of an equity loan from the government.
Buyers in Scotland have access to a similar scheme.