Virgin Media strikes deal with BT for sports channels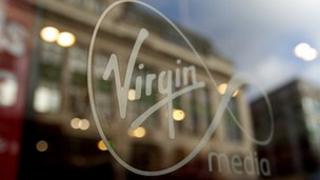 BT has struck a deal with Virgin Media to make its new sports channels available to the cable operator's subscribers.
The three-year agreement will see customers on Virgin's most expensive subscription get BT's three sports channels.
Those on cheaper deals can pay extra to receive them.
The deal will mean Virgin Media can now supply sports channels from both BT and its rival BSkyB.
It is a step forward for Virgin Media in the continuing battle with its larger competitor.
Last year, the firm launched an internet TV service that streams programmes to computers, tablets and smartphones, in a challenge to BSkyB's rapidly growing Sky Go service.
Thursday's tie-up is also seen as a boost for BT, which will gain more viewers and be able to charge extra for advertising.
Triple-play tussle
The telecoms giant launched its UK sports channels in August, in a challenge to the two-decades-long sports-TV dominance of Sky.
Sky has already seen off ITV Digital, Setanta and ESPN, which all temporarily entered the pay-TV football market.
Two weeks after the launch, BT said one million households had signed up to the new channels since it started taking orders in May.
This compares with BSkyB, which has a total of 10.4m TV subscribers, although not all those take sports channels.
BT surprised the market when it agreed to pay £246m per season to show 38 live football matches. BSkyB has the rights to 116 games per season.
Media analyst Steve Hewlett said the underlying battle between BT and Sky was for supremacy in the triple-play market - the bundling of television, telephone and broadband.
He said the launch of the new sports channels was to prevent BT losing its broadband customers to Sky.