China's Tencent reports weaker than expected profit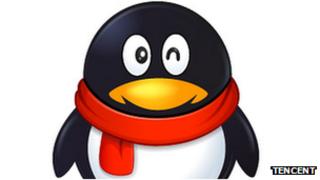 Tencent Holdings, China biggest online firm, has reported weaker-than-expected profit for the April to June quarter.
Net profit was 3.7bn yuan ($605m; £390m) during the period, up 18.4% from a year earlier. However, compared to the previous quarter, profit fell 9.5%.
It said its profit margin was hurt in part by an increase in marketing costs for its popular chat app, WeChat.
Active users of WeChat rose to 235.8 million during the quarter, making it one of world's biggest messaging apps.
The numbers represent a 176% increase from the same period last year.
Tencent, whose services include instant messaging service QQ, microblogging site Tencent Weibo - which is similar to Twitter - and online games, said that it would continue to boost its presence in the apps sector.
"We will continue to increase our investment in mobile apps in order to reinforce our position in China, and to extend our presence to international markets through WeChat." Ma Huateng, chairman of Tencent, said in a statement.
Earlier this month, the company introduced a new version of WeChat that integrates with services such as online games, stickers and payment.
It said the move would help "to broaden our service offering to users and explore new business opportunities".