IAG announces Airbus A320 orders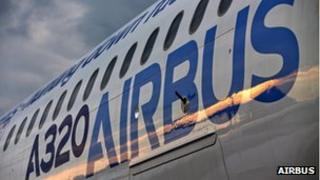 International Airlines Group (IAG), which owns British Airways and Iberia, has announced orders and options for up to 220 Airbus A320 aircraft.
IAG said up to 120 of the planes were for its Spanish airline Vueling, with 62 firm orders and 58 options.
The planes ordered have a list price of about $5.4bn (£3.5bn), although IAG said it had agreed a "substantial discount" on the list price.
IAG also has options on 100 A320s which could be used by any of its airlines.
IAG said that the new planes would enable Vueling to "replace some of its existing A320 fleet and expand its business".
The planes that have been ordered are due to be delivered between 2015 and 2020.
"Vueling has managed to successfully expand its business profitably by targeting both growth markets and those areas where weak competitors are reducing capacity," said IAG chief executive, Willie Walsh.
The order is subject to approval by IAG shareholders.