Cisco to cut 4,000 jobs despite strong profits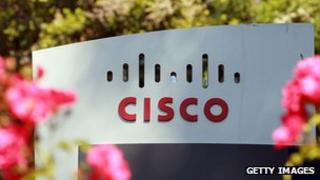 Network equipment giant Cisco Systems has announced plans to cut 4,000 jobs, about 5% of its workforce.
The news came after it reported net income of $2.3bn (£1.5bn) in the fourth quarter, up from $1.9bn a year earlier.
Cisco's chief executive John Chambers said that "the economic recovery is slower and more inconsistent".
The cuts come as the company looks to reduce costs as it sees demand for its networking equipment remain uncertain.
Cisco also predicted that its revenues in the current quarter would be at the lower end of analysts' forecasts.
Its shares fell more than 9% in after-hours trading.
'Quick reallocation'
Mr Chambers said the job cuts were due to weaker sales in Japan, China and Europe, which had weighed on revenue growth.
"The environment in terms of our business is improving slightly but nowhere near the pace that we want," he said. "We have to very quickly reallocate the resources."
It is the latest round of job cuts at Cisco as the company restructures its business, moving away from consumer products.
Cisco - which is the world's largest manufacturer of network technology equipment - is often seen as a bellwether for other technology companies.
Its fourth quarter results had been in line with expectations, with revenues up 6% to $12.4bn.
For the current quarter, it is estimating revenues of between $12.2bn and $12.5bn, compared with analysts' forecasts of $12.5bn.