Steinway agrees $512m private sale to hedge fund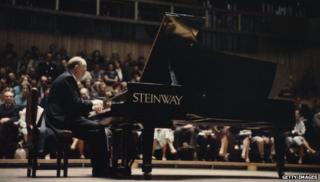 Steinway Musical Instruments, the US company famous for its grand pianos, has agreed a buyout deal with hedge fund firm Paulson & Co.
The deal values the firm at $512m (£330m) and trumps an earlier offer made by rival firm Kohlberg & Co.
Steinway still has 25 days to accept better offers, but Kohlberg has already said it will not bid again.
The 160-year-old firm piano maker has struggled to maintain its profit margins in recent years.
Shares rose 6% to $40.51, close to the offer price.
Steinway's sales grew just 2% last year.
It sells a selection of brass and other instruments alongside its range of pianos.
It has been looking for a buyer since December 2012, after concluding a 17-month strategic review.
The purchase is seen as an unusual move for John Paulson, who heads the Paulson & Co fund.
He rose to prominence in the financial world in the wake of the crisis in 2007 when he bet against the subprime mortgage investments at its centre.