Australia's refugees show their business sense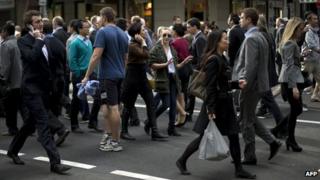 This year Australia welcomed the 800,000th refugee to be resettled since the country's independence from the United Kingdom in 1901.
This former penal colony has harnessed their verve and risk-taking, while some of Australia's richest people, including Westfield shopping mall king Frank Lowy, arrived seeking sanctuary from cruelty overseas.
As Australia's political leaders promise increasingly severe measures to deter a steady flow of asylum seekers arriving by boat before the election next month, refugees and their families continue to quietly go about their business.
They have become a vital cog in the economy and are more likely than anyone else to start their own companies.
In his printing shop in the Fairfield district of Sydney, Riz Wakil, a Hazara Muslim from Afghanistan, tells how he was clandestinely ferried to Australia from Indonesia by a trafficking gang more than a decade ago.
For six terrifying days, he and 72 other asylum seekers risked their lives on a leaky wooden fishing boat. For Mr Wakil, it was the first time he had seen the sea.
"The hardship and the suffering I have been through in my life as a young adult and as a child in Afghanistan - that made me a very determined and tough person.
"I am a fighter. I don't give up very easily," he says.
"The majority of people in Australia resettling from Afghanistan, Iraq, Sri Lanka or Iran were denied opportunities in their own home countries. There are people who have very successful businesses.
"There are millionaires in Australia who, believe it or not, would not be able to even write their own name in English but they are successful business people," he adds.
'Not easy'
His small company in Australia's biggest city employs five people, but while the domestic economy begins to falter as the China-driven resources bonanza fades, making a living in the printing industry is getting harder.
"It is not very easy. It is a roller coaster. Sometimes it's good, sometimes it's bad. But I am hanging in there and I don't have any intention of giving up," Mr Wakil says.
For many enterprising refugees, being self-employed is not always a dream but a necessity because of the difficulties of finding paid work.
"Refugees are more likely, even than skilled migrants and the Australian-born population, to be involved in starting their own businesses," says Paul Power, the head of the Refugee Council of Australia.
While there is no data on the precise contribution this vast displaced group has made to the Australian economy over the decades, Mr Power insists that the impact has been profound.
"If you look at it in purely economic terms, it is pretty clear that it takes between five and 10 years for them to find their feet in Australia and make a net contribution economically, but people who come as refugees don't come for five or 10 years, they come for a lifetime," said Mr Power.
Unsustainable growth
Not everyone agrees. Right-wing groups argue that mass immigration and multiculturalism are a recipe for social and economic chaos, where jobs and opportunity are unfairly snatched from those born in Australia.
Indeed, polls suggest that many voters are anxious about high levels of immigration, and the pressure that incomers bring to congested cities and overstretched services.
Entrepreneur Dick Smith told SBS Television that Australia's population growth was an "ongoing disaster".
He said that a nation of 23 million people, compared with 19.6 million just over a decade ago, could not sustain "perpetual growth in a finite world".
In 2010 Mr Smith offered 1m Australian dollars ($920,000; £590,000) for anyone under 30 who could provide a sensible solution to what he called Australia's "population and consumption growth-obsessed economy".
So far, the money has not yet been paid out.
Yet in parts of the country, those who arrived in humanitarian waves over the years have been a rejuvenating force.
'Something we treasure'
After World War II , the small city of Shepparton, 175km (110 miles) north of Melbourne, welcomed legions of Greeks, Macedonians, Italians and Albanians, who helped to cultivate the region's fruit industry.
Then it was the Turks, while more recently opportunity has drawn Afghans, Iraqis, Sudanese and Congolese to the thriving mosaic on the banks of the pretty Goulburn River.
"We want the wheels of our economy to keep turning, so we find the people who come here start businesses in the retail, transport and motel industries," says Jenny Houlihan, the mayor of Shepparton.
"They are starting up childcare businesses, some of the Afghan women are driving instructors, and others have started a travel agency and a car wash.
"It really is something that we treasure."