Fonterra's head of milk products resigns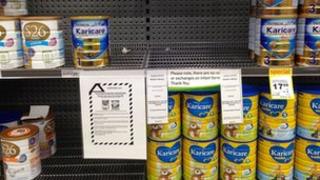 Fonterra has said the head of its New Zealand milk products, Gary Romano, has resigned with immediate effect.
Fonterra did not give any reasons, but it comes just days after a safety scare over some products triggered a recall and import bans from some countries.
Earlier this month, it said batches of products, including infant formula, contained a raw ingredient tainted with bacteria that can cause botulism.
The New Zealand government has launched an investigation into the scare.
Fonterra, the world's biggest dairy exporter, has also launched two internal investigations into the matter.
Fonterra's chief executive, Theo Spierings, said he had accepted the resignation and would take charge of the division.
"Gary has made a significant contribution during his time at Fonterra and we respect his decision," Mr Spierings said in a statement.
Export concerns
Dairy exports account for about a quarter of New Zealand's export earnings and the dairy industry contributes about 7% of the country's gross domestic product.
Fonterra is the biggest company in New Zealand and is responsible for almost 90% of the country's milk production.
However, the scare has raised some concerns over the impact it may have on the sector, not least because of the import bans it triggered.
China was one of the first countries to block the imports of the potentially contaminated product. That was followed by similar measures from some other countries.
For its part, Fonterra has issued a recall and said that there have been no known illnesses caused by the tainted products.
However, the company has faced criticism, both at home and in the Chinese state media, for delays in disclosing the contamination.
Last week, government officials were sent to Fonterra facilities in New Zealand and Australia to oversee the flow of information.
Meanwhile, New Zealand's Prime Minister, John Key who has been critical of the firm for not drawing attention to the issue earlier, launched a ministerial-level inquiry into the matter.
Mr Key said that said he would go to China after the investigation was completed, to give assurances and discuss the results.