Five countries face US anti-subsidy duties on shrimp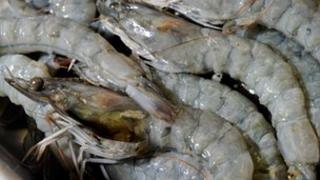 The US Commerce Department has imposed duties on shrimp imports from five nations.
The ruling applies to about $2bn (£1.3bn) of shrimp imports, from India, Ecuador, China, Malaysia and Vietnam.
The Commerce Department found that those nations had been subsidising their shrimp producers.
A group representing shrimp fishermen and processors in several US states, near the Gulf of Mexico, filed a petition asking for import relief.
Malaysia faces the highest duties of up to 54.5%, the lowest were set for Vietnam which faces duties of up to 7.8%.
"We appreciate these robust numbers from the Commerce Department," David Veal, executive director of the Coalition of Shrimp Industries which filed the petition, said in a statement.
Thailand and Indonesia were exempt from the duties.
A final approval is needed by another government body, the International Trade Commission (ITC), before the duties can take effect,
The ITC will consider whether US producers have been threatened by the imports and make its decision in September.