BP sues US government over federal contracts ban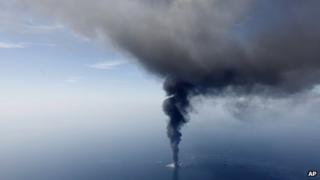 BP is suing the US government for barring the company from obtaining new federal contracts.
The Environmental Protection Agency (EPA) banned BP last November blaming the firm's "lack of business integrity" after the Deepwater Horizon explosion.
The blast in 2010 killed 11 workers and released an estimated four million barrels of oil into the Gulf of Mexico.
BP says the ban unfairly includes 21 of its subsidiaries that were not connected to the spill.
"We believe that the EPA's action here is inappropriate and unjustified as a matter of law and policy, and we are pursuing our right to seek relief in federal court," said Geoff Morrell, BP's head of US communications.
"At the same time, we remain open to a reasonable settlement with the EPA."
BP is one of the biggest suppliers of fuel to the US government.
The ban has not affected existing contracts but has prevented BP from taking new leases in the Gulf where it drills for oil.
Compensation battle
BP is also in a battle over its compensation scheme for businesses affected by the 2010 oil spill.
It says there is a risk that hundreds of millions of dollars in claims payments could be fraudulent.
But last month a US judge rejected BP's request to suspend all payments related to the Gulf Coast oil spill.