Steinway bid abandoned by private equity firm Kohlberg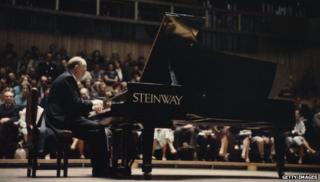 Private-equity firm Kohlberg & Co has abandoned its effort to buy the 160-year old piano maker Steinway Musical Instruments.
In July, Kohlberg had an offer accepted by Steinway, valuing the company at $438m.
But that was trumped on Monday by a mystery bidder valuing Steinway at $477m.
Kohlberg had three days to match the offer, but has declined to raise its bid.
That news emerged in a regulatory filing on Tuesday.
US media reports say the higher offer came from hedge find manager John Paulson.
Mr Paulson is known for being one of the few investors to spot the US mortgage meltdown.
His hedge fund, Paulson & Co, has struggled in recent years, and there is speculation that his decision to buy Steinway is an effort to an expand into other investment areas.
Investors, who had pushed Steinway's share price higher in recent days in anticipation of a bidding war, were surprised by the news.
Steinway's shares - which are traded as LVB, for Ludwig van Beethoven - fell after the announcement.
Steinway has been looking for a buyer since December 2012, after concluding a 17-month strategic review.
Steinway recently sold its stake in its flagship showroom on 57th Street in Manhattan.
The company still manufactures instruments in Astoria, Queens and Hamburg, Germany.