Ryanair to sue Channel 4 over fuel allegations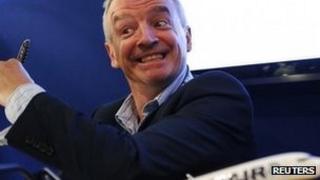 No-frills airline Ryanair plans to sue Channel 4 over a programme that quoted pilots saying they were concerned over the airline's fuel policy.
"Ryanair has instructed its lawyers to issue legal proceedings against Channel 4 Dispatches for defamation," it said.
The programme detailed three incidents in which Ryanair pilots had to call in emergency alerts because they were low on fuel.
"We stand by our journalism," said Channel 4.
Ryanair said that these incidents occurred because of bad weather, but that in each case, the aircraft fully complied with EU regulation.
It said all its flights already carried extra fuel above the minimum EU requirements, and emphasised that it had not had a single passenger or flight crew fatality in its 29 years of operation.
The documentary featured a survey by the Ryanair Pilot Group (RPG), a group of pilots seeking union representation, which found that 94% wanted regulators to conduct an inquiry.
The group, not recognised by Ryanair, polled 1,000 pilots and first officers for the survey representing more than a third of the airline's total.
It found that 89% did not consider that the airline had an open and transparent safety culture and two-thirds were not comfortable raising issues through an internal reporting system.
Ryanair said the group "lacks any independence, objectivity or reliability" and claimed the survey was part of a 25-year failed campaign to win union recognition at Ryanair.
It added that flight crews were encouraged to report any safety concerns through an online confidential system.
In a separate statement, the Irish Aviation Authority (IAA), the independent safety regulator for Irish airlines, said that it regularly reviewed Ryanair's fuel policy and that the airline fully complied with European regulations.
It also noted that that any employee could make a confidential report on any safety concern via its public website.