Can art change Margate's fortunes?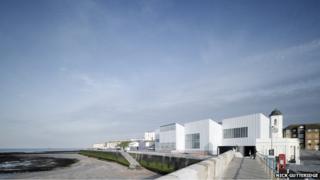 All over the world, towns and cities are turning to culture to rejuvenate ailing urban centres with art and museums. Margate in Kent is one of them, and it is also a test case for the declining seaside resort. What does it have to do to prosper in times like these?
Until recently, one-third of Margate's shops were vacant. There were 800 empty properties and 20% unemployment. But a lot of effort has gone into changing that.
Margate has exploited a local connection with the 19th Century painter JMW Turner and built a new £17.5m art gallery, opened in 2011. It also has plans to rejuvenate a heritage amusement centre.
Victoria Pomery, director of the Turner Contemporary, arrived on the project in 2002 - long before the gallery itself was built. Before that she had worked for years at the Tate Liverpool.
"I'd really seen what a difference culture can make in a city like Liverpool, where culture has taken a long time, but regeneration is a long process," she says.
Culture driver
She argues that by creating ambition and aspiration you also create civic pride.
"By the end of summer 2013 we'll have had one million visitors, which is much more than we'd ever anticipated," she adds.
"Rough Guide voted Margate one of the 10 places in the world that one should visit in 2013.
"Kent has always suffered from its proximity to London, there's been a view that people could go and access the arts in London but actually people need to access the arts on their doorstep.
"The important driver for Kent County Council was that of regeneration. What could be done in a seaside resort that had seen its heyday in the 19th Century and the mid-20th Century, how could Margate reinvent itself? It was felt that culture could be a real driver."
Just a short stroll from the Turner gallery a new boutique hotel has opened in a slightly unlikely site on Margate High Street, which is still littered with empty shops.
But climb up to the rooftop bar of the Sands Hotel and there is a spectacular view of the sea. It has 20 rooms, a bar and a restaurant.
Director Conrad Bigham is a former banker and hotel consultant. Initially he and his business partner thought about developing the site into luxury apartments, but after looking at all the aspects that were affecting the development of Margate, decided to go down the hotel route.
"Historically, there was a dearth of quality hotels in Margate, and hotels have played a key part in expanding the threshold of what we regard as attractive destinations," he says.
Mr Bigham believes that Margate is now on the up.
"We're enjoying a fresh influx of visitors, initially stimulated by the Turner, but now supported by a number of other developments, including the new seafront, the investment in the old town and the fresh links to London on the high-speed rail.
"Also the direct flights to Manston airport, which gives this part of the world access to global destinations."
'Sustainable impact'
Wendy James opened her gift shop, Crafted Naturally, almost a year ago. She is also treasurer of the Margate Town Team, set up as a response to a national initiative led by the retail consultant and TV presenter Mary Portas, to try to revive Britain's high streets.
"I talk to my customers and I estimate that about half of them are visitors, not necessarily all to the Turner but a large percentage, and I certainly couldn't survive if I just relied on my local customers," she says.
The government has awarded £100,000 to the team, but Wendy James says so far only around £15,000 to £20,000 has been spent.
"We want to spend it wisely rather than quickly, and have something that will have a sustainable impact," she explains.
With Turner Contemporary pulling in the art lovers, attention has turned to an empty site on the seafront. Margate visitors remember Dreamland with great affection, but in recent years its fortunes have faded.
The shuttered Dreamland amusement park is almost 100 years old, and the Dreamland Trust is mustering enthusiasm and money and planning permission to buy it and restore it as a heritage amusement park, with its wooden roller-coaster as the centrepiece.
"We're working towards an Easter 2015 opening. Some restoration work has already begun on the historic rides collection," says Jan Leandro, Heritage and Engagement Manager for the Dreamland Trust.
"Dreamland sustained a community, it provided jobs, it brought visitors into the town. Even in its defunct state, before it closed in 2006, it was still bringing visitors to Margate.
"We're confident those visitors are out there and they want to come back."
Signs of change
Inspector Mark Pearson is part of the Margate Task Force, a multi-agency team that is working to improve life in the town. He realises that regeneration is going to be a long process but says that he has started to see some progress.
"There's a warehouse, right in the middle of the most difficult part of Cliftonville West (one of the more deprived wards in Margate), where one entire floor has been dedicated to artwork. They opened it up recently and had just over 400 visitors," he says.
"Five years ago, if you had said we're having an art exhibition, no way - that wouldn't have been a viable option.
"There are signs that things are starting to change. You have to keep making positive changes in many, many places and art and the Turner Contemporary are an essential part of that."