Diageo paid former boss Paul Walsh £14.8m in his final year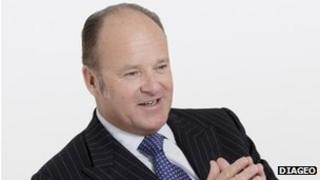 The former chief executive of Diageo, Paul Walsh, earned £14.8m in his final year at the drinks giant.
Most of the earnings came from incentive plans linked to the company's performance and were paid in shares.
That part of his pay was boosted by an 80% rise in the value of Diageo shares since the bonus scheme started in 2010.
Mr Walsh, who stepped down as chief executive at the end of June, had a fixed salary of £1.3m which represented 9% of his final year pay package.
Diageo controls some of the biggest brands in whisky including Johnnie Walker and Bells as well as the brewer Guinness.
Global leader
The pay details were contained in the company's annual report released on Monday.
In the report, chairman of the company's remuneration committee, Lord Davies of Abersoch said: "The company has delivered exceptionally strong three-year total shareholder return performance relative to its peer group for the performance period that ended on 30 June 2013."
Paul Walsh is not the highest paid chief executive in Britain. Angela Ahrendts, boss at fashion house Burberry, last year earned £16.9m.
Mr Walsh is to continue his involvement with Diageo's portfolio of Scotch whiskies for another five years, for a fee of £80,000 per year.
Mr Walsh has been credited with building the company into a global leader.
Diageo's share price more than tripled during his tenure, helped by acquisitions including Turkey's Mey Icki and a deal to buy a stake in United Spirits, India's biggest liquor maker.
The company has also reorganised its whisky business in Scotland over the past few years, including the closure of the Kilmarnock plant which had been linked to the Johnnie Walker brand for 192 years.