'Brits would let us down': Your views on foreign workers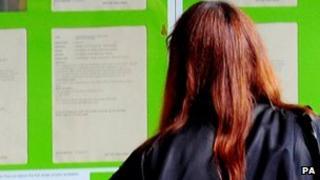 Two of the UK's largest retail firms have come under criticism for their focus on recruiting Eastern Europeans over British nationals.
Comments that were due to appear in a speech by Labour's shadow immigration minister Chris Bryant were reported in the press at the weekend, attacking Tesco and Next for their employment practices.
The MP originally referred to "unscrupulous employers" but later modified the comment and other excerpts after complaints from the two retailers.
BBC News website readers share their views and experiences on the issue of foreign workers.
Dave, Pontefract
I have worked for Next for over 17 years. In my experience Next try to recruit locally by advertising for friends and family. My nephew is 20 and he has just got a job at Next through a friends and family recruitment drive.
Like other large companies, they use agency workers to provide a workforce during short-term peaks.
I have many friends at Next from countries all over the world. Their hard work while employed with agencies has given them the reward of a permanent contract.
I am not a fan of recruitment agencies in a modern world. I don't see the need to involve a third party for recruiting staff - if you can advertise on the web people will apply for vacant positions.
If the suggestions by Chris Bryant hold any substance, why does this happen in a place like Next where there is a recognised trade union in place?
In my village Next should be credited for the employment they have brought to an area devastated by Tory policies in the 80s. There were many other areas in the country where they could have located.
People in the EU have the right to move where the work is to better their lives. It's what we call freedom.
Adrian, London
I own a recruitment agency that supplies temporary, unskilled labour in London. Around 90% to 95% of our workforce is non-British. While our doors are open to all who are legally entitled to work in this country, there are two reasons for the apparent imbalance.
Firstly, very few British people respond to our adverts or make themselves available for work. Secondly, those who do contact us are invariably poorly presented, lacking in enthusiasm and flexibility and if given a chance to work for us, are far more likely to let us down than workers of other nationalities.
While the reasons for this can be speculated, the fact remains that recruitment agencies stand or fall by the quality of the staff they send out to represent them. Within our sector, any company that relied upon British unskilled workers in London would be out of business instantly.
There is an additional problem concerning the way in which many agencies, usually pressured by major customers, all but ignore the Agency Workers Regulations. However, the practice does not discriminate against UK citizens - it is blanket abuse.
Michael, Sheffield
I think companies should employ people directly, rather than relying on agencies to do it. That way they can choose who they want to employ and they will know how many people are locals and how many are from other countries.
I'm sure employees would get a better deal that way as well, as it would not be so easy for companies to find casual labour.
I'm from Slovakia and I've lived in in the UK for eight years. In that time I've never had a permanent job - I've always had a temporary contract from an agency.
Currently I work for an agency on a zero-hours contract, and I don't get any overtime pay, bank holiday pay or bank holiday overtime pay.
Previously, I worked for a distribution centre in South Yorkshire and recruitment agencies for jobs at that centre were hiring directly from Poland and even advertising in Polish.
I don't think it's just about foreigners - I think agencies prefer to hire people that are not from the area. That way they can control people more easily.
If workers are from other countries they can't open their mouths and complain because they might have to go home if they lose their jobs.
Anna, Edinburgh
As a retired businesswoman who has employed Poles, I have experience of what goes on and have seen all sorts of things.
Last year I was winding up my business and I had the offer of a cleaning contract with a restaurateur. They were paying £9 per hour which wasn't viable for us and the rate we paid our staff. The next day the jobs were advertised on a Polish website in Polish at £7 per hour - with no-one else getting a look in at doing the work.
Because I speak Polish (my parents were immigrants to this country) I know that a large number of big companies like First buses and Tesco do advertise in Poland in Polish for workers.
There are so many other issues surrounding this. My company employed a supervisor; she was well paid with a company car etc. Her husband came from Poland to work with First buses and they got social housing even though they own three properties in Poland and she had a good job.
It seems there is no way for the system to check the information given by people coming from abroad.
I also know of people who come over from Poland to sign on then get cheap Ryanair flights back. It upsets me as it abuses a system that so many other people really need.
There is this hallowed idea of hard work associated with Poland that has somehow got into the British business psyche - but Poles work hard and so do Brits. Brits are lazy and so are Poles. People are people and you get the same types all over.
John, Tunbridge Wells
I am an employer in the healthcare industry and nearly half of my employees are from Eastern Europe.
My British employees are wonderful, but to find them I have had to work very hard. I have had to build a work ethic in that part of the team that seems to be a natural part of my Eastern European employees' nature.
I employ two Eastern European nurses who have been working for us for five years and four years respectively. Neither one has ever taken a sick day in that time.
My Eastern European staff are punctual, very hardworking and they learn fast. They are so good that there are a number of other clinics in London that have tried to pinch them.
We ask them not to speak in a foreign language among themselves in front of customers. One employee did have some difficulty with English so we bought her a language course and she worked on it very hard and now she has mastered it to a very good level.
I thought we signed up to a common market, and in that common market everybody's job prospects should be equal.
If local people were ready to come forward, do the interviews, do the extended studies that our Eastern Europeans do as a matter of course, then we could employ more local people.