Greece's slump eases as GDP and budget both improve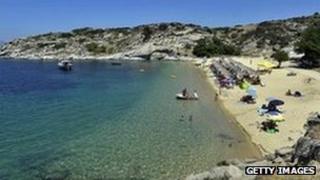 The severity of Greece's recession eased slightly in the second quarter, according to the country's statistics body.
Greece's economy shrank at an annual rate of 4.6% in the three months to the end of June, a slight improvement on the 5.6% fall between January and March.
The figure came as the government said its budget had swung into a surplus between January and July.
The budget was boosted by EU subsidies.
Alpha Bank economist Dimitris Maroulis said he expected GDP to improve further in the third and fourth quarters.
"That means that recession will not exceed 4.2% this year," he added.
The data came at the same time as Greece reported a budget surplus of 2.6bn euros (£2.2bn), trumping its target of a 3.1bn-euro deficit.
The sharp pick-up is largely due to the country receiving more European subsidies than expected and spending less of the money than initially planned on investment projects.
The figure was also boosted by one-off payments from central banks returning profits they made on Greece's government bonds, a deal agreed as part of its international bailout.
Recession
Despite the slight improvement in Greece's finances, it remains in the recession it entered at the height of the financial crisis.
It has been the worst affected of the eurozone economies by the financial crisis, and was the first to receive an international bailout in May 2010.
It has seen a 25% drop in output since 2007 and has an unemployment rate of 26.9%.
The country was given another 6.8bn euros last month from the European Union, the International Monetary Fund (IMF) and the European Central Bank.
The money has strict conditions attached which require that government debt levels are reduced.
That has meant deep job cuts, tax increases and reductions in wages and pensions.