'Cowboy' tax advisers to be named and shamed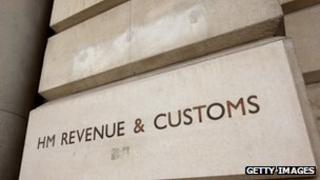 The government is planning new rules to name and shame "cowboy" financial firms which help companies avoid paying tax.
The policy would allow HM Revenue and Customs (HMRC) to publicise the names of accountants whose tax avoidance schemes border on illegality.
It is perfectly legitimate for companies to avoid paying tax where they can.
But some schemes, that involve complicated ownership structures and foreign tax havens, are illegal.
"The vast majority of tax advisers are not high-risk and have moved away from selling aggressive avoidance schemes," said Treasury Minister David Gauke.
"But there is still a minority that persists in promoting these schemes," he said.
Firms which do advise their clients to indulge in aggressive tax avoidance could also be fined up to £1m.
Starbucks, Amazon and Google are among multi-national companies that have admitted paying little or no corporation tax in the UK.
'Fugitives'
At the moment, HMRC has to take a financial firm to court if it believes it is promoting an illegal scheme.
But under the new rules, it would be free to name any company it suspected of doing so.
"This consultation will allow HMRC to further close in on the 'cowboy' advisers promoting these high-risk schemes," said Mr Gauke.
This is the latest attempt to discourage companies from avoiding paying tax in the UK.
But HMRC has been criticised for its record in catching so-called "tax fugitives," people who have escaped justice after evading taxes.
Only two of 21 people named by HMRC a year ago have been caught.
However Donald Toon, HMRC's director of investigations, has defended the organisation's record.
"We would say the strike rate is actually quite high," he told the BBC.
A consultation on the government proposals will take place between now and October 2013.