British art exports hit post-credit-crunch peak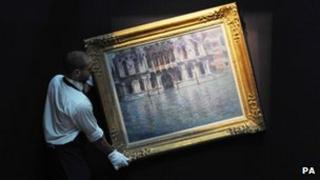 The value of art exports leaving the UK surged by a third over the past year to hit its highest level since the height of the financial crisis in 2008.
Foreign buyers paid almost £2bn for art and cultural exports in the year to May 2012, according to legal information provider Sweet & Maxwell.
The rise came despite a new law giving artists or their heirs the right to 4% of resale values.
There are fears that this change could affect exports.
"Art experts and dealers were concerned that London's position in the art world could suffer compared to New York or Hong Kong, which haven't introduced any such levy on the resale of modern and contemporary art," said Massimo Sterpi, co-editor of The Art Collecting Legal Handbook, published by Sweet & Maxwell.
The Artist's Resale Rights Directive came into effect at the start of 2012.
Mr Sterpi said London's popularity as a second home for wealthy foreigners from the Gulf, Russia and Hong Kong had helped drive art sales.
The co-editor of The Art Collecting Legal Handbook, Bruno Boesch, said art sales had also benefited from the financial crisis, as the values of other assets for wealthy buyers had slumped.
"Art is an increasingly important trophy asset for international high net-worth individuals," he added.
Modern art exports were one of the fastest growing categories, jumping 105% to £687m in the period, according to Sweet & Maxwell.
Sweet & Maxwell used data from the Department for Culture, Media & Sport for its figures.