France: No change to 2013 growth forecasts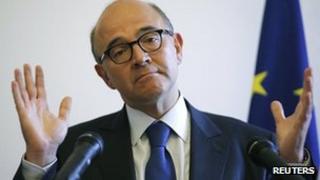 France's finance minister has denied that the eurozone's second-biggest country has revised down its economic prospects for 2013.
Pierre Moscovici was quoted on Saturday as saying that France's economy might shrink 0.1% this year, after predicting 0.1% growth earlier this year.
But he said on Sunday: "I have not made any revision on the forecast of growth in France."
He added that a new forecast might appear with the new budget next month.
France has not had a year of negative growth since 2009.
"We know the trends and this year growth will be weak and between -0.1% and 0.1%," Mr Moscovici told the Nice Matin newspaper on Saturday. "What is important is that the trend has reversed.
"I have every reason to believe that 2014 will be the first year of real growth for three years."
Mr Moscovici told RTL radio on Sunday that the range he gave in the interview "reflected the consensus of economic institutes" and was not a change to the government's view.
'Not upset growth'
The International Monetary Fund in June called on France to lower its labour costs and halt tax rises to boost both growth and its competitiveness.
The IMF predicts France's GDP will fall 0.2% this year.
Mr Moscovici told the French newspaper that France needs to reduce its deficit "but at a pace that does not upset growth".
"First, in line with International Monetary Fund recommendations, we will reduce public spending, then by a limited increase in the tax burden of 0.3%, in line with social justice."
In June, the European Commission, gave France two years to trim its budget deficit from 3.7% of gross domestic product at the end of 2012 to 3%.
Unemployment in France, the eurozone's second-largest economy after Germany, currently stands at 11%.