RBS share sale at least five years away, says Cable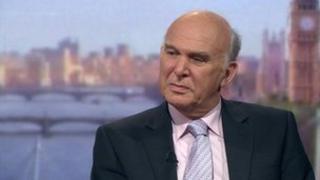 The government's 81% stake in Royal Bank of Scotland will not be sold off in the next five years, Business Secretary Vince Cable has said.
He told the Sunday Telegraph it was "pretty unrealistic" to think the bailed-out bank would be back in private ownership by 2018.
His comments contrast with the prime minister who wants the stake sold "as fast as possible".
And RBS's chairman said in May the sale process could begin next year.
RBS was bailed out to the tune of £45bn in 2008 and declared the biggest annual loss in UK corporate history, leading to its former head Fred Goodwin being stripped of his knighthood.
The government bought shares as part of its bailout at 502 pence a share. RBS shares closed on Friday at 325.60p.
'Not this Parliament'
Mr Cable told the newspaper: "I don't think it would be sensible for the government to set a rigid timetable, but given where we start from I think it is pretty unrealistic to think of RBS going back into private ownership this Parliament or probably within five years."
There have been calls to break up the bank, splitting it into "bad" and "good" parts.
"I think there is a very strong argument for saying that the bank got too big and indeed that was the source of its undoing," Mr Cable said.
"But we are having to balance the benefits of breaking up the bank... my colleagues in the Treasury are doing very detailed work on that cost-benefit calculation, because there is no simple yes or no answer."
RBS declared a quarterly profit in May.
At the time, RBS chairman Sir Philip Hampton said: "What we want to do is have a business that is performing well... enabling the government to start selling shares from, let's say, the middle of 2014 on - it could be earlier, that's a matter for the government - but certainly we think the recovery process will be substantially complete in about a year or so's time."
Mr Cameron said in May: "I keep a very close eye on this and want to make sure progress is made as fast as possible."