Chinese economic data points to end of slowdown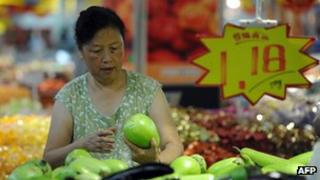 China's economy could be stabilising, the latest set of economic figures from the country has suggested.
Factory output in July rose 9.7% compared with a year ago, ahead of expectations and up from the previous month's figure of 8.9%.
Consumer prices held steady in July, rising 2.7% from a year earlier, matching the rate seen in June.
China's growth rate has been slowing at its fastest pace since the global financial crisis in 2008.
In the second quarter of the year, China's economy grew by 7.5% compared with the previous year, down from 7.7% in the January to March period.
The government has set a target of 7.5% growth for the whole of 2013, which would mark the lowest rate of expansion in more than two decades.
Rebound?
In other data released on Friday, the producer price index fell 2.3% in July from a year earlier compared with a drop of 2.7% in June.
However, although July's retail sales jumped by 13.2% compared with last year, that was a slower pace of growth than the 13.5% recorded between June 2012 and June 2013.
On Thursday, trade figures showed export and import growth rebounded in July.
Analysts welcomed the latest data, but said more evidence would be needed before it would be safe to say whether the economy was beginning to pick up again.
You Hongye, economist at Essence Securities, said: "Broadly speaking, economic growth is stabilising and recovering slightly, but we still need to see whether the momentum could be sustained."
Xu Dongshi, from Galaxy Securities in Beijing, said: "The easing PPI drop also implies signs of stabilising of the industrial sector. But it's still too early to say that China's economy is on the track of rebounding as it takes time to resolve economic structural problems."