Buy-to-let lending tops £5bn, says CML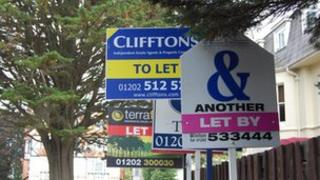 Buy-to-let lending in the UK hit its highest level for nearly five years in the second quarter of the year, lenders say.
The Council of Mortgage Lenders (CML) said that 40,000 mortgages, worth £5.1bn, were advanced to buy-to-let investors in April, May and June.
This was the highest since the third quarter of 2008.
This trend could see new buyers fighting it out with investors as the housing market gathers pace.
'Renewed appetite'
The second quarter level of buy-to-let lending was 19% higher by volume and 21% higher by value than in the preceding three months.
Year-on-year, buy-to-let lending was 19% higher by volume and 31% higher by value, although it was picking up from relatively low levels. The peak during the housing boom for any one quarter was £12.7bn, which was reached in the autumns of 2006 and 2007.
This change echoes increased activity in the overall housing market to a degree.
The CML said landlords had been taking the opportunity to remortgage their properties during the spring, and were also benefitting from strong demand from tenants.
Groups serving and representing landlords welcomed the figures.
George Spencer, chief executive of online lettings company Rentify, said: "This growth is fuelled by a renewed appetite from investors - both experienced and novice alike, along with better availability of buy-to-let mortgages at lower rates and with looser criteria than at any time in the past five years."
Many think the pick-up in lending to landlords will continue after the Bank of England signalled a continuation of low interest rates.
"The Bank of England's forward guidance on interest rates has given investors more confidence, which should translate into further activity over the coming months and years," said David Whittaker, managing director of Mortgages for Business.
However, the state of the housing market varies in different areas of the UK, and is still being driven primarily by London and its attractiveness for overseas investors.
Stuart Law, chief executive of Assetz, a group of property companies, said: "While the growth of the sector in London is clear to see, the house price ripple effect is only just beginning now in the north of England."