Ladbrokes results hit by gaming machine slowdown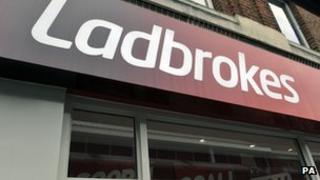 Bookmaker Ladbrokes has reported a sharp fall in profits, hit by a bigger-than-expected slowdown in gaming machine revenues.
Pre-tax profits for the first six months of 2013 came in at £55.1m, down 49% from the same period last year.
It also said returns from its gaming machines in July had been hit by the UK's "prolonged period of hot weather".
Ladbrokes opened 73 new stores in the first half of the year and plans another 30 in the rest of the year.
It is Britain's second largest bookmaker and has more than 2,000 High Street shops.
The company issued a profits warning in April, saying that profits for the rest of the year would be at the bottom end of analysts' expectations.
Another effect of the warmer weather has been the harder ground, which Ladbrokes said had led to "a marked reduction in the average runners per race and corresponding increase in the percentage of winning favourites".
Chief executive Richard Glynn said: "Following a strong performance in 2012, we have continued to make good operational progress against our strategy which, disappointingly, is not reflected in our first half financial performance."
Ladbrokes has been working on strengthening its online offering, and reported one-off costs of £21.8m from its new partnership with software developer Playtech.