Jaguar-Land Rover demand fails to lift Tata Motor profits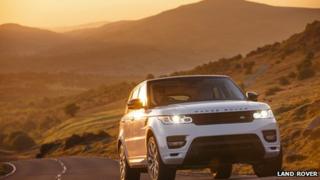 Indian car maker Tata Motors reported a 23% drop in profits, attributed mostly to weak demand at home.
Net profits were 17.26bn rupees ($238m; £154m) in the third-quarter.
However, sales of Jaguar and Land Rover vehicles - brands the company purchased from Ford in 2008 - were a bright spot, with profits up by 29%.
"Our consolidated earnings were powered by a very good performance by Jaguar-Land Rover," said C. Ramakrishnan, chief financial officer of Tata Motors.
Tata bought Jaguar-Land Rover from Ford for $2.3bn in an effort to expand the company's reach outside of India.
In particular, it has aimed to expand into the Chinese market, where demand for luxury vehicles has remained robust despite a slight slowdown in the economy there.
Tata has said that it aims to sell more than 100,000 cars in China in this year.
However, demand in its home market of India continued to decline for the eight straight quarter, where the company said it was impacted "severely by weak macro-economic conditions."
Overall, Tata said it sold 94,719 cars in the first quarter of 2013, a 10% rise from a year earlier.