China fines infant formula companies for price-fixing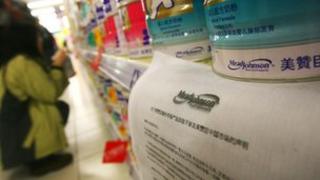 China has levied a record fine of 670m yuan ($109m; £71m) on six producers of infant formula for price-fixing, state media say.
The six companies involved were Mead Johnson, Biostime, Dumex, Abbot, Friesland and Fonterra, it said.
The move follows an antitrust and anti-competition probe by authorities.
Consumers in China are willing to pay more for foreign brands after six children died from drinking tainted milk produced locally in 2008.
The fines, announced by China's top economic planner, the National Development and Reform Commission, coincide with a separate pricing investigation into the pharmaceutical industry.
Five of the companies named in the probe are foreign while one, Biostime, is listed in Hong Kong.
US-based Mead Johnson, which makes the Enfamil formula, said it would pay $33m in penalties. Biostime said its local unit was fined $26.3m. Fonterra said it was fined $720,000.
According to Xinhua news agency, three companies - Wyeth, Beingmate and Meiji - avoided fines because they co-operated with the probe.
Milk scare
In 2008, six children died and 300,000 were made ill across China after the chemical melamine was found in locally produced infant formula.
This incident is why many Chinese parents do not trust local brands and prefer to buy foreign infant formula - which can be much more expensive.
Authorities have said they are investigating the possibility that suppliers have set a minimum price for their distributors.
That is common practice in some markets, however Chinese regulators see this as illegal under the anti-monopoly law.
China's fast-growing dairy industry was already in the spotlight this week after the country limited imports of products that contained a raw ingredient made by Fonterra because some batches had been contaminated with a bacteria that can cause botulism.
On Wednesday, Fonterra said that all products that contained the bacteria had been removed from shelves.
"All the stocks have been contained, everything is out of the market. It's in warehouses and there is little or no more risk for consumers," Fonterra chief executive Theo Spierings said to reporters.