Last reel: The death of the drive-in cinema?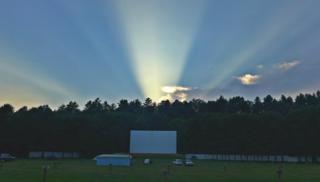 Nestled in a mountain valley on the border between the states of Vermont and New Hampshire, the half-century-old Fairlee Drive-in cinema is in danger of going out of business. It is a threat that drive-ins across the US face as new technology puts this most American night out at risk.
On a typical Friday afternoon in the tiny town of Fairlee, Vermont, you can usually find Peter Trapp huddled in a cement bunker in the middle of a rolling field.
He is busy splicing together the five reels of 35mm film that have just arrived in the mail.
It is a ritual that he has engaged in every summer since 2003, when his family bought the drive-in that he went to as a boy at summer camp in the 1960s.
"It's a real family business," he says with a laugh, noting that his wife and three sons normally rotate between working in the snack bar and taking tickets each night.
On this balmy evening at the tail end of a heatwave, it is 17-year-old Cooper Trapp at the ticket booth.
"Not a bad summer job," he says with a smile.
As he sells tickets for tonight's screening of the 20th Century Fox film Epic to dozens of cars and trucks filled with families, he passes each one a flyer.
On it is the image of a barely filled thermometer: the results of the Fairlee's year-long fundraising campaign for a new digital projector.
"I think last year we raised maybe $15,500 [£10,000], which is great but it's not close to what we need," says Mr Trapp.
If the Trapps cannot raise the $76,000 it costs to buy and install the new projector by the end of this summer - a necessity, as all new movie releases switch to digital by the end of the year - it is very likely that the Fairlee, a mainstay in this community for more than 60 years, will close.
Inevitable change
The switch from film to digital projectors has been happening since the late 1990s.
"It was a relatively slow take-up at the beginning," says David Hancock, director of film and cinema at IHS Screen Digest.
"3D pushed it forward, and then in the last two years we've seen the industrial-level roll-out around the world."
According to IHS data, more than 90% of US cinemas have already converted to digital projection.
There are just 5,000 holdouts, mainly small independent cinemas and, of course, the classic American drive-in.
Only 368 drive-ins remain, down from 4,000 in the 1950s, their heyday. Of the remaining drive-ins, around 40% - or 139 theatres - have converted, according to the United Drive-in Theatre Owners Association.
"It is a pivotal year in the drive-in's future," says April Wright, director of the documentary Going Attractions: The Definitive Story of the American Drive-In Movie.
Ms Wright noted that 2013 is the 80th anniversary of the opening of the first drive-in cinema in Camden, New Jersey.
"This is kind of the year that is a juncture of how the industry's going to move forward."
Costly upgrades
Although the switch to digital projection is often billed as a money-saving move - it costs around $100 for each digital film, as opposed to somewhere between $1,000 and $2,000 for each 35mm print - the projectors are expensive.
"The cost is exorbitant for many of our members," says United Drive-In Theatre Owners Association president John Vincent, himself the owner of a drive-in theatre in Wellfleet, Massachusetts.
A new digital projector for a drive-in can cost anywhere between $70,000 and $150,000.
Mr Vincent notes that many drive-ins have been using the same projector technology that they installed when they were first built in the 1950s.
"Are these new projectors going to last 50 years? I don't think so."
But Mr Hancock says refusing to upgrade is not an option.
"Fundamentally, the point is if you don't convert, you'll die."
No Plan B
The uncertainty surrounding the depreciation of digital projectors has made it difficult to secure a bank loan, says Mr Trapp.
Furthermore, bad weather this year - it snowed the first official weekend of the summer in Vermont - has kept attendance low.
"You could take out a loan but you wouldn't be able to pay it back," says Mr Trapp.
So he has turned to the community to help with donations - throwing a fundraiser and creating a webpage for donations.
He has even entered a contest sponsored by car maker Honda to raffle off five projectors to needy drive-ins.
But right now, if he cannot reach his funding goal, he says "there is no Plan B".
Dewy memories
For tonight at least, Fairlee's residents and visitors can continue to experience the classic double feature, a steal at just $9 a ticket.
Fifteen-year-olds Jasmine Jamieson, Erin Bullard and Jenny Ulz are crammed into the back of Sheryl Ulz's compact car, giggling conspiratorially.
Shy at first, when asked about why they like what seems to be an experience that belongs to an older generation, they immediately become enthusiastic.
"It's more fun than the movie theatres because you can meet a lot more of your friends and talk a lot more and do a lot more than just watch the movie," says Erin.
"If it went out of business, it would bum a lot of people out because it's one of the main things we do around here."
As the sun sets and the vintage advertisements roll on screen, the girls settle in chairs, sleepy with the summer heat.
It is an experience that Mr Trapp remembers well from his youth, spent in front of this very same screen, nestled in the back of a sawdust truck with his sleeping bag.
"I would only remember half the first movie and then I'd fall asleep," he remembers fondly with a laugh.
"Then, all of a sudden, there'd be someone waking you up and everything you have would be soaked because of the dew."