The battle between old and new media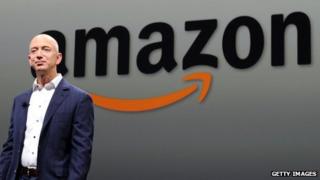 By most measures, the $250m (£163m) that Jeff Bezos is paying for the Washington Post newspaper is a lot of money, but perhaps not in the world of the internet and new media.
Jeff Bezos himself is worth $25bn, making him the world's 19th richest man according to Forbes.
So the Post represents a small fraction of his overall wealth.
But what also puts this deal into perspective is the huge sums of money being invested in new media.
Last year, Facebook was valued at more than $100bn when it sold shares for the first time.
And Facebook itself invested $1bn in the photo sharing website Instagram back in April 2012.
So why have the values of old and new media diverged so spectacularly?
Post 'humbled'
In the case of newspapers, the business model has been thoroughly undermined.
"For the best part of 100 years, newspapers were a licence to print money, you could sell the same words to readers and advertisers," says Tim Luckhurst, professor of journalism at the University of Kent.
But over the last 20 years, both readers and advertisers have melted away.
For the Washington Post, average weekday circulation is currently about 475,000, as against almost 770,000 in 2002.
"In this millennium, it has suffered terribly," says Roy Greenslade, professor of journalism at City University in London.
"It's probably one of the world's most admired newspapers, but has been humbled and sales have been declining."
Good journalism 'costs'
Despite cutbacks, costs remain much higher at most big newspapers compared with new media firms such as the Huffington Post and Politico.
That is partly because newspapers such as the Post spend money on investigative reporting, which can generate huge stories, but at a price.
"Good journalism costs money. Newspapers need to take reporters off the diary to chase stories. That can take months and might not even result in anything," says Mr Greenslade.
Mr Bezos seems keen to maintain that kind of reporting at the Washington Post.
In a memo to staff at the Washington Post, he expressed his admiration for the courage of the previous owners, the Graham family, and their willingness to follow the story "no matter the cost".
But he also underlined the changes that have hit the industry.
"The internet is transforming almost every element of the news business: shortening news cycles, eroding long-reliable revenue sources, and enabling new kinds of competition, some of which bear little or no newsgathering costs," Mr Bezos said.
But those who watch the industry say that Mr Bezos may be able to revive the Post.
"He might be the ideal, or at least a very good owner," says Mr Luckhurst.
"The Post needs someone with a good business brain who cares about quality journalism. I have no reason to believe that Jeff cannot do both."