Riot claims 'not yet finalised'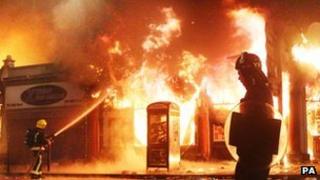 Insurance companies have dealt with 2,500 claims as a result of the riots that broke out across England two years ago.
But some compensation cases - for those without insurance or underinsured - have yet to be finalised.
Payouts from insurers are expected to reach £200m, with the vast majority of regular claims completed.
However, some claims have been more complex and required compensation from police commissioners.
Final bill
In August 2011, riots spread across cities in England in what was the biggest display of civil unrest in the UK for 30 years.
More than 3,000 people were arrested in connection with the unrest, which saw streets in parts of the country hit by looting, arson and violence.
In the aftermath, insurance companies were accused of being too slow in compensating some victims, an accusation that they challenged.
The Association of British Insurers (ABI) said that the final bill was expected to reach a level that insurance companies had been planning for.
"Insurers and loss adjusters have played an important role in helping customers and businesses get back on their feet, repairing the damage caused to properties and local communities," an ABI spokesman said.
Complex cases
Some large businesses are still waiting for claims to be resolved, as are some of those who found that their policies did not totally cover their losses.
For the most part, these are complex cases that required a compensation claim made to a local police and crime commissioner through the Riot (Damages) Act.
These claims needed to be made within 42 days, but the paperwork involved has proved to be complex in many cases.
"The Act only applies to a riot and does not apply to damage caused by civil commotion, strikes or political disturbances, which are covered as standard under most household and business insurance policies," the ABI said.