Newsweek sold to digital news firm IBT Media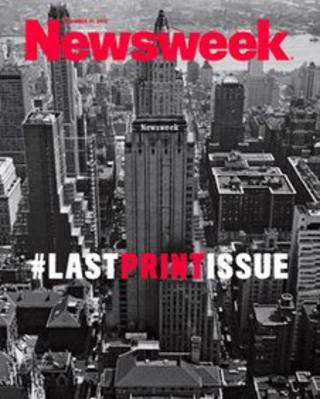 The former US current affairs magazine Newsweek has been sold to a US digital news company.
IBT Media will buy what is left of the magazine, which published its last ever print edition in December, from owner IAC for an undisclosed price.
After 80 years, Newsweek became a digital-only publication amid falling ad revenues as audiences moved online.
It was last sold by the Washington Post for $1 in 2010 and merged with the Daily Beast website.
The Daily Beast, a news website co-founded by Tina Brown in 2008, will not be sold to IBT Media as part of the deal.
The newsweek.com web address will be revived in the coming weeks, IBT Media said.
Newsweek's first edition was published on 17 February 1933. At its height, it had a circulation of three million, but declining readership and advertising revenue saw it fall into losses like many of its publishing peers.
"We believe in the Newsweek brand and look forward to growing it, fully transformed to the digital age," said Etienne Uzac, co-founder and chief executive of IBT Media.
"We respect the brand's long history of delivering high-quality, impactful journalism and believe this aligns well with IBT Media's culture and mission. We look forward to working together to create a profitable and successful enterprise."
IBT was set up in 2006 and publishes International Business Times, Medical Daily, Latin Times and iDigitalTimes, giving content in seven languages in 235 countries.