More consumers believe UK economy will improve - survey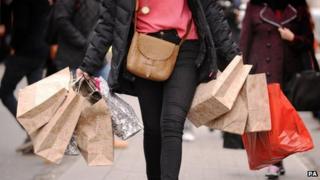 More consumers think the UK economy will improve next year than those who think it will get worse, a survey has suggested.
In total, 36% of people questioned by consumer group Which? believe the economy will improve in the next 12 months.
However, the figures show that 29% of those questioned think it will worsen.
The proportion of people rating the economy as good was, at 13%, the highest since July last year.
But the survey suggested concerns about rising food, fuel and energy prices were leading one in three people to cut back on essentials.
The consumer group tracks the spending habits and behaviours of 2,000 people every month.
In July last year, the proportion of consumers rating the economy as good was 6%, the survey said.
Some 59% of respondents rated it as poor according to the current figures.
The top consumer worries remain unchanged since last year, with 81% concerned about fuel, followed by energy prices (79%) and food prices (73%).
'Surge of optimism'
Almost a third (31%) of respondents said they were finding it difficult or very difficult to manage on their current household income, and 20% remain worried about their job security.
The survey said that 36% of consumers were cutting back on essential household spending, compared with 25% in July last year.
More than a quarter (28%) have dipped into their savings to cover this month's spending and 21% have used an authorised overdraft facility in the last month, compared with 17% last July.
Richard Lloyd, executive director of Which? said: "While this surge of optimism shows that consumers are feeling more positive about the future of the economy, it isn't filtering through to how people feel about their own personal financial situation.
"The recent heatwave and the arrival of a royal baby may have contributed to the public mood but there is still no let-up for the millions of squeezed households who are struggling to get by.
"Unless things improve, we won't see the all important rise in consumer spending that is so vital to the UK's economic recovery."