Weight Watchers shares fall 19% on profit warning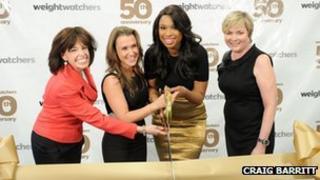 Shares in the weight-loss giant Weight Watchers dropped by 19% on Friday after the company warned it was losing customers to free apps and other electronic slimming aids.
It said it expects recruitment to fall throughout the year and to start 2014 with fewer members after what it called a "sudden explosion" in free apps.
Weight Watchers cut its full-year profit forecast late on Thursday.
It also said its chief executive, David Kirchoff, was resigning.
Its business operates by helping people manage weight loss through nutritional advice and products and motivational meetings.
'Potential'
New boss, Jim Chambers, said current business conditions were challenging: "As an offset, we are making good progress with our cost savings agenda.
"We know there's much more to be done to improve overall business performance. While I'm excited about the team's plans for the January 2014 campaign, the 2013 recruitment weakness means that we'll start 2014 with fewer active members and therefore a lower earnings base."
But he said he was confident in the company's "strategic potential" and said it would be able to change to keep pace with the market.
However, the words did little to inspire investors.
Credit Suisse analyst, Glen Santangelo, said: "The company offered little in terms of its plan for the 2014 marketing campaign, offering no basis to assume recruitment trends improvement."
Weight Watchers was founded 50 years ago by Jean Nidetch, from New York, who discovered the best way to control her weight was by eating controlled amounts of normal food backed up by moral support from friends.
The system was turned into a business with the help of businessman Al Lippert.
It claims to have a million active members.