Royal Mail boss Moya Greene returns £120,000 payment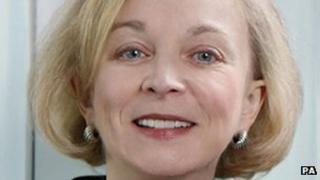 Royal Mail chief executive Moya Greene received pay and benefits worth £1.47m last financial year, the group's annual report has revealed.
Ms Greene's basic salary was unchanged at £498,000, but other benefits increased, meaning her total package went up from £1.1m in 2011-12.
However, she has agreed to return £120,000 paid towards the cost of buying a house after Business Secretary Vince Cable objected to the payment.
Mr Cable said it had been a mistake.
The annual report said Mr Cable had advised the remuneration committee that it should have secured his approval for the payment.
For its part, the committee believed it had made its decision "in good faith and in exceptional circumstances".
"When she learned of this background, the chief executive voluntarily offered to return this assistance," the report went on to say. "The remuneration committee has accepted this offer and is arranging the process for repayment."
'Additional assistance'
Apart from her basic salary for 2012-13, Canadian-born Ms Greene received £200,000 in lieu of a pension, £399,000 under a short-term incentive plan and £127,000 in contractual benefits, including medical insurance and return flights to Canada.
She was also paid £250,000 as an exceptional payment, described in the report as "additional assistance on the purchase of a home". This was offered "given the difference in residential costs between the UK and Canada".
After tax, this amounted to £120,000. This is the sum that Ms Greene is now repaying.
A Department for Business spokeswoman said Mr Cable had been "annoyed" when he learned of the payment and had "asked for and got a full apology from the chairman" of Royal Mail.
Mr Cable said the payment was "unapproved" and he was pleased that it was being returned.
"The company acted quickly to rectify the situation," he added.
"A mistake was made in not seeking my approval - I would not have approved it. The chairman is sorry. The payment is being returned. I now regard the matter closed."
Privatisation
Mr Cable, who last month unveiled plans to privatise Royal Mail, described Ms Greene as "an exceptionally good CEO", saying she and the board had his full support.
The Communication Workers Union, which fears that privatisation will lead to job losses, said the size of Ms Greene's pay package was "imitating private sector excess".
It pointed out that the total was 72 times the average pay of a postal worker.
Labour's shadow business secretary, Chuka Umunna, also criticised the £250,000 "perk" awarded to Ms Greene, which he said would be "totally unfathomable" to Royal Mail customers.
"The decision to award this housing assistance in the first place is surprising and calls into question the judgement of Royal Mail's board," he tweeted.