Debts: Insolvency levels 'continue to fall'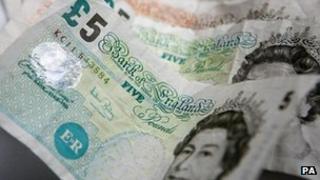 The number of people declared insolvent in England and Wales fell by 6.1% in the second quarter of the year compared with the same period a year ago.
However, there was a slight rise in insolvencies compared with the previous three months, the Insolvency Service figures show.
Insolvency levels have been on a downward trend since 2009.
The data shows that the number of companies going into administration is similar to a year ago.
There were 622 firms entering administration in April to July, compared with 625 a year earlier, but up from 557 recorded during the previous quarter.
Companies wound up totally - known as liquidation - rose by 10.5% compared with the first quarter of the year, to 3,978, but fell by 2.1% compared with April to July last year.
Debt decisions
Personal insolvencies have dropped in recent times, as lenders have shown more understanding with people who have struggled with debts, by giving them more breathing space to repay.
The courts have also made sure that insolvency has been a last resort for individuals and have encouraged some people to seek debt advice instead.
There were 25,717 individual insolvencies in the second quarter of the year. Notably, there has been a shift in the manner of insolvency.
For example, bankruptcies - the traditional way of cancelling unmanageable debts - have fallen by 20.1% in the second quarter compared with the same three months a year ago.
Debt Relief Orders, for those with relatively small debts, dropped by 10.4%. However, Individual Voluntary Arrangements - formal deals between individuals and their creditors - were up by 6.8%.
The picture for individual and company insolvencies in England and Wales mirrors data released by the Scottish authorities a week ago.
The insolvency figures have been published as a major study of household finances suggested more people were struggling to pay debts and bills on a day-to-day basis.
The Money Advice Service said that 52% of the 5,000 people questioned said they were struggling, compared with just 35% in a similar study in 2006.