Unemployment in the UK: What's in a number?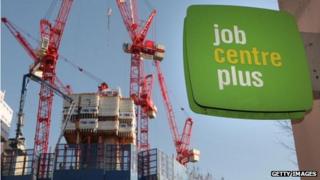 What does Britain's unemployment rate tell you about the state of the economy?
Bank of England policy makers have had to grapple with that question, in considering how they might want to "guide" the markets' expectations. But they're not the only ones. For anyone who's concerned with how Britain's recovery is going to turn out, it's about the most important question there is.
Of course, governments have always been concerned with getting people into work. But in the 1960s and 1970s they learned to temper that enthusiasm for higher growth with a concern for inflation. In the long run, economists decided, fast growth couldn't deliver full employment, if the economy didn't have the underlying productive potential to match.
That's where the concept of the Natural, or Non-Accelerating Inflation Rate of Unemployment comes from - or NAIRU.
Idiot's guide
Yes, it is an ugly acronym, but when economists first started to talk about it, 30-40 years ago, the concept that there might be a "natural" rate of joblessness, seemed ugly to many people as well.
Long-term, governments like to think they can lower that natural rate, by raising skills levels, for example. But like most "structural" improvements to the economy, it's not quick.
Short term, the Bank of England is supposed to take the natural rate as fixed, and assume that the economy is getting close to full capacity when the rate of joblessness approaches that level.
As I noted in my last post, the Office for Budget Responsibility reckons Britain's "natural" rate is now about 5.4% - the rate of unemployment just before the economy peaked. Others like the OECD think it's higher.
It sounds simple enough. But the Bank's job has usually been made harder by the fact that growth only affected unemployment with a lag. If the MPC waited to see the level of unemployment rate that came from a given rate of growth, the risk was that the boom would already have got out of hand, meaning a painful time for the economy - including higher unemployment - to get things back on track.
So, central bankers ended up focussing more on output and less on unemployment - not because they didn't care about jobs but because what was happening to output now was likely to tell you quite a lot about what was going to happen to unemployment and capacity later on.
So much for the idiot's guide to the natural rate of unemployment and modern central banking. Why does any of this matter right now?
'Labour hoarding'
It matters because these days, the link between growth and unemployment is not just operating "with a lag" - it's not really operating at all. As I've discussed many many times here, employment has been rising, even in long periods when the economy was not.
At first it was possible to put the puzzle down to "'labour-hoarding" by employers, and a rise in self-employment and part-time work. The idea was that unemployment had not really fallen, it was merely being hidden by reductions in hours - and new "jobs" that were not really jobs.
But, increasingly, that explanation just doesn't wash. As Kevin Daly explains in a fascinating recent bit of research for Goldman Sachs, average hours worked have actually been quite high during this period.
In the UK, people are joining the active labour force, not leaving it. And self-employment is not rising any faster now than in the years before the crisis, when the standard link between output and employment was still working pretty well.
So what's driving the rise in employment, against the odds? I wrote about one big part of the explanation here a while ago - the falling relative cost of labour.
Later retirement
But Daly looks at the same numbers a slightly different way. It's true that real wages have been unusually weak in this period, he says, but what's just as striking, given everything that's happened, is that the supply of willing workers in the UK has gone up.
It makes sense, when you come to think about it: if it were rising employer demand for labour, for a given amount of output, that was driving the rise in numbers in work, you'd expect that higher demand to push up wages. In fact, the reverse has happened: employment has risen, as real wages have continued to fall. Especially over the last year or so.
He sees a number of reasons for this, the biggest being a shift towards later retirement which has accelerated in the past few years, perhaps partly due to legal changes like phasing out compulsory retirement and changing the state pension age for women.
You might wonder whether older people working longer could really explain all this, but it turns out that for anyone under 50, there hasn't really been much of a jobs 'puzzle'. The growth in employment in that younger part of the workforce has not been all that unusual.
Odd behaviour
What does any of this mean for the Bank of England? One key conclusion is that there might well be more slack in the economy than many people think. Daly and his colleagues reckon there might be as much as 4% or 5% of GDP's worth of spare capacity out there. That's well above the latest estimates from the OBR and others.
Another implication, relevant to the MPC and their guidance, is that the Bank might not have to worry that the odd behaviour of unemployment makes it a poor guide to Britain's short and medium term growth potential.
Some have said it doesn't make sense to use the unemployment rate as a "threshold", above which the Bank will promise not to raise interest rates - on the grounds that unemployment is now a poor guide to what's going on with the economy.
For example, if there were a lot of hidden unemployment - and/or the UK really had suffered a big permanent hit to its productive capacity as a result of the crisis - you might worry that growth would now become unsustainable, long before the threshold was reached.
That is still possible. It is also possible that the rate that the MPC sets will turn out to be too high. But the Daly view of what's happening with the labour market suggests that - whatever is going on under the surface - the rate of unemployment might well be as good a guide to the amount of slack in the UK economy as the Bank is likely to find.
Back to its roots
Think about it. If unemployment remains higher than expected because demand is weak, the Bank would probably want to keep interest rates lower for longer (other things being equal).
If, on the other hand, unemployment is staying high, just because more people are joining the workforce, the same probably applies, because more willing workers means more chance that prices will remain under control. It doesn't really matter which is right; the answer is still loose policy.
You might not ever find out exactly what the "natural rate" is. But, arguably, this view suggests that you have a better chance of finding out looking at the unemployment rate than by focussing on GDP and inflation alone.
We might look back, in a few years' time, and decide that all these experts got the UK jobs riddle wrong.
But, if the Bank does decide to put unemployment rate at the heart of its 'guidance' next week, you could say that it had just gone back to its modern roots: back to thinking that the test of a successful economic policy is whether it helps to give as many citizens as possible the chance of a decent job.