IAG hails 'progress' in Iberia recovery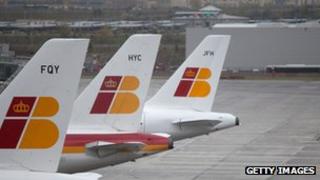 International Airlines Group (IAG) has said it is making progress in its efforts to revive its loss-making Spanish carrier Iberia.
Iberia's operating losses in the April-to-June quarter narrowed to 35m euros ($46m; £30m) from 93m a year earlier.
This helped IAG to report second quarter operating profits of 245m euros for the period, compared with a loss of 4m euros last year.
IAG has been trying to restructure Iberia, including cuts to jobs and pay.
However, the one-off costs associated with these measures contributed to IAG - which also owns British Airways and Spanish budget airline Vueling - reporting a pre-tax loss of 506m euros for the first six months of the year.
Shares up
IAG chief executive Willie Walsh told BBC Radio 4's Today programme the restructuring programme at Iberia was "making good progress".
The airline group said nearly 1,700 workers had left Iberia so far, although it plans to have shed more than 3,000 staff from the carrier by 2014.
Of the staff remaining, flight and cabin crew are having their pay cut by 18%, and other employees are seeing an 11% wage cut.
Mr Walsh also noted an improved profit performance at British Airways, where second quarter operating profits increased to 247m euros from 94m a year earlier.
IAG's results were welcomed by investors, with the firm's shares the biggest riser on the FTSE 100 - closing up 7% at to 317p.
IAG's result's came on the same day that German airline Lufthansa reported a net loss of 204m euros for the first six months of the year, compared with a profit of 50m euros a year earlier.
Lufthansa is also in the process of trying to trim costs and is aiming to cut 3,500 jobs.
Chief financial officer Simone Menne said the restructuring of the airline was "gaining speed".