US regulators demand clamp down on Apple e-book contracts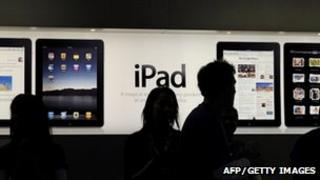 US regulators have called for Apple to be forced to cancel certain e-book contracts with major publishers.
They added Apple should be hit with a five-year ban on entering distribution contracts deemed anti-competitive.
The move follows a court ruling in July that Apple conspired with five firms to fix the price of e-books.
The court found Apple had encouraged publishers to set the price of their e-books, rather than allowing retailers to decide the price.
Prosecutors said this was aimed at Amazon - a rival e-book retailer that charged lower prices than Apple was able to offer.
As a result, Amazon's typical price of $9.99 for a best-seller rose to $12.99 or $14.99 after the launch of the iPad, they said.
Following the court ruling Apple said it would appeal against and fight "false allegations".
The Department of Justice and 33 State Attorneys General submitted their 'remedy' to the court ahead of a hearing on 9 August.
"The court found that Apple's illegal conduct deprived consumers of the benefits of e-book price competition and forced them to pay substantially higher prices," said Bill Baer, Assistant Attorney General in charge of the Department of Justice's Antitrust Division.
"Under the department's proposed order, Apple's illegal conduct will cease and Apple and its senior executives will be prevented from conspiring to thwart competition in the future."
The regulators also called for Apple to offer links to other e-book retailers like Amazon and Barnes & Noble for two years, so consumers who bought e-books on their iPads and iPhones could compare Apple's prices with those of its competitors.
They said this would "reset competition to the conditions that existed before the conspiracy".
The publishers who had such contracts with Apple were Hachette Book Group (USA), HarperCollins Publishers L.L.C., Holtzbrinck Publishers LLC, which does business as Macmillan, Penguin Group (USA) Inc. and Simon & Schuster.
Penguin settled its case for $75m (£49m). Hachette, HarperCollins and Simon & Schuster created a $69m fund for refunds to consumers, while Macmillan settled for $26m.