New RBS chief Ross McEwan to receive no bonus this year or next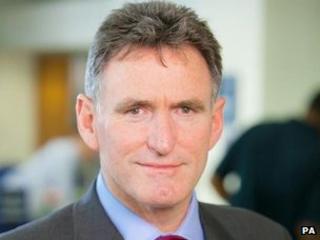 The incoming chief executive of Royal Bank of Scotland will take no bonus for his work in the role this year or 2014.
Ross McEwan, 56, who is currently head of the bank's retail arm, will take up the position in October with a £1m salary.
The announcement came as RBS reported pre-tax profits of £1.4bn in the first half of the year.
This was up from a loss of £1.7bn the year before.
However, the bank's shares took a hit as investors voiced their disappointment there had not been further improvements.
Shares finished the day down 3.3% after falling 5% earlier.
'Safe and strong'
RBS chairman Sir Philip Hampton said running the bank was among the most challenging jobs in the business world.
"Five years on from its rescue, RBS is now a safe and strong bank," he said.
"Our focus is now on building a really good bank for our customers and shareholders, returning the bank to private ownership, and playing our full part in supporting the UK economy."
Current chief executive, Stephen Hester, said he had been impressed by Mr McEwan's detailed operational and customer-focused skills.
"He has got, I think, a really good personality, gets on well with people, a sense of leadership but not domination, and one that I think will do the human things of leadership that are needed to be done, well," he told analysts.
Chancellor George Osborne welcomed the appointment, saying Mr McEwan had impressed with his vision of RBS as a strong, UK-centred corporate bank.
The bank said Mr McEwan, who joined RBS from Commonwealth Bank of Australia in September 2012, would not take a bonus for 2014 or for the remainder of 2013.
Any bonus he has earned for his role as head of retail at RBS so far this year will be deferred till 2017, when it will be paid in shares.
Subsequent bonuses will be conditional on Royal Bank of Scotland's share price rising above what the Treasury deems the break-even level for taxpayers' stake in the bank.
Instead of a pension he is set to receive a cash sum each year equivalent to 35% of his salary.
His £1m pay packet marks a 16.7% drop from the £1.2m earned by the bank's current chief executive, Stephen Hester.
Lloyds contrast
In the first half of the year the bank reported a group operating profit of £1.7bn, up 5% from the first half of 2012.
But in what RBS calls its core - the operations that it wants to keep and expand - profits fell from £4.5bn to £3.8bn.
The bank was also forced to set aside another £185m pounds to compensate customers for the mis-selling of payment protection insurance, taking the bill for mis-selling to £2.4bn.
The RBS profit numbers come a day after Lloyds Banking Group announced it had made £2.1bn in the six months to the end of June, compared with a loss of £456m for the same period last year.
BBC business editor Robert Peston said the RBS numbers showed the bank was much stronger than it was a few years ago, particularly in terms of capital ratios, a key measure of the bank's strength.
"However, the profit performance isn't as impressive if you strip out funny accounting niceties," he said.
"Certainly a little bit of growth this year but that is the contrast between RBS and Lloyds - yesterday we saw significant profits growth at Lloyds but we are not yet seeing that at RBS.
"There is no doubt its retail banking operations in the UK can be a powerhouse again, but the row with the Treasury over whether the investment bank should be expanded or slimmed down has detracted fairly significantly from its operating performance."
'Lacklustre figures'
Richard Hunter, head of equities at Hargreaves Lansdown stockbrokers, said RBS' first half figures were "lacklustre" and unlikely to alter investor perception of the stock as one to avoid.
"The general view is one of impatience in awaiting the RBS full recovery story when there are perceived to be better opportunities elsewhere in the sector," he said.
Announcing his last set of figures before stepping down as chief executive, Stephen Hester was more positive, saying RBS's journey from "bust bank" to "normal bank" was largely done.
"But no small task remains - to harness the energies and strengths that have driven the bank's recovery, and to take RBS towards the target of being a 'really good bank' for customers, shareholders and society as a whole," he added.
Doing splits
There has been speculation that the success of Lloyds could soon pave the way for the government to sell its 39% stake in that bank.
However, analysts said the results from RBS, which is 81%-owned by the UK taxpayer, told a different story.
Joe Rundle, head of trading at ETX Capital, called it "a particularly weak performance".
"Unlike its peer Lloyds Banking Group, there's little to suggest the government is comfortable with selling down its stake in the bank," he said.
Another issue concerning investors is uncertainty over a potential move to break RBS up into a "good" bank and a "bad" bank.
A draft report from the Parliamentary Commission on Banking Standards has called for the split, which could see poorly performing loans taken onto the government's balance sheet.
The final report is due in September.
Mr Hester told analysts that his job had been to deliver a bank strong enough for the government to feel it had an option on whether or not to proceed with a break up.
"I think the numbers today very clearly demonstrate that it is an option not a necessity," he said.