Ex-Goldman Sachs trader Fabrice Tourre liable in $1bn fraud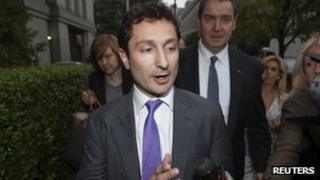 A New York jury has found former Goldman Sachs trader Fabrice Tourre liable for fraud in a complex mortgage deal that cost investors $1bn (£661m).
Jurors concluded that the trader, who nicknamed himself "Fabulous Fab", had misled investors in the run up to the global financial crisis in 2008.
Complex mortgage investments played a significant role in the crisis.
Mr Tourre was found liable in six of the seven fraud claims brought by US financial regulators.
He was accused by the Securities and Exchange Commission (SEC) of misleading investors about investments linked to subprime mortgages that he knew would fail.
Because the case is civil rather than criminal, he faces possible fines and a ban from the financial services industry.
'Surreal and dream-like'
The exact punishment will be determined at a later hearing.
In his closing arguments, SEC lawyer Matthew Martens described Mr Tourre's testimony as "surreal, imaginary, unreal, dream-like".
He was also described by the regulator as the "face of Wall Street greed".
Two years ago, the disclosure of emails from Mr Tourre sparked widespread debate about Wall Street's role in the financial crisis.
In them he described himself as Fabulous Fab, saying of the financial markets that the "whole building is about to collapse anytime now".
"Only potential survivor, the Fabulous Fab... standing in the middle of all these complex, highly leveraged, exotic trades he created without necessarily understanding all of the implications of those monstrosities!!!"
Subprime mortgages became increasingly popular in the US in the years before the financial crisis.
They were mortgages given to borrowers at higher risk of being unable to pay the money back.
These high-risk loans were repackaged by banks into more complex mortgage investments and sold on to other banks, causing chaos in the banking system when borrowers began to default.
Responding to the verdict, Andrew Ceresney, co-director of the SEC's enforcement division, said: "We will continue to vigorously seek to hold accountable, and bring to trial when necessary, those who commit fraud on Wall Street."
The SEC has faced criticism over its efforts to hold banks and their employees accountable for the financial crisis, which pushed the US and other global economies into recession.
According to its website, the commission has charged 157 firms and individuals so far, including 66 senior executives, and has secured $2.7bn in fines and penalties.
Goldman Sachs settled its case with the SEC in 2010, paying $550m without admitting or denying any wrongdoing.