Lloyds results show privatisation could be days away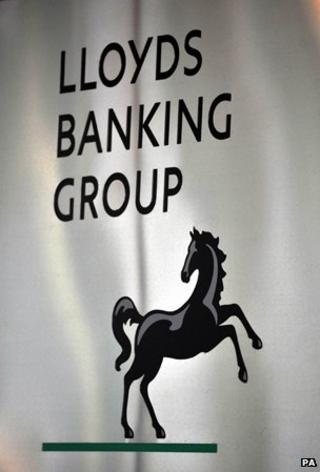 Lloyds results for the first half of 2013 demonstrate why it will not be long before the Treasury sells a meaningful chunk of the 39% of the bank owned by taxpayers.
The results show Lloyds is close to full rehabilitation.
Its profits are up very sharply - on the so-called statutory basis, from a loss of £456m to a profit of £2.1bn, and on the basis that Lloyds prefers, they're up 190% to £2.9bn.
Contributing to that recovery is that losses on bad debts have shrunk more than 40%, and - vital for any bank - the gap between what it charges for loans and what it receives from depositors and creditors (the interest margin) is widening in a meaningful way.
Also, Lloyds has accelerated the process of offloading low-quality and unwanted loans and assets.
For investors in Lloyds shares, the group has uttered the resonant words they've been awaiting, that it will soon start discussions with regulators on paying dividends for the first time since the 2008 crash.
Which means that privatisation could start in days, and certainly won't be more than weeks away.
As of last night, the share price of 68.5p was well above the minimum that the chancellor wants - which is 61p a share.
The reason that price matters is that, because of the eccentricities of public-sector accounting, sales above that level would reduce the national debt (and sales below would increase the national debt).
However. the actual price we as taxpayers paid to buy our £20bn stake in 2008 was 73.6p - and there are many who believe that's what the chancellor should seek to recoup from the aggregate of what will be an episodic process of privatising over months and years.
The first episode, a sale of between £2.5bn and £5bn of Lloyds shares to investment institutions, could happen as soon as early next week.
That is the last possible window before capital markets go on holiday properly till September.
There are precedents for a chunky share sale at the start of the holiday season: UBS did it a while back.
But there are slightly heightened risks of a flopperoo.
If Lloyds shares rise strongly into the weekend, the chancellor is likely to press the button on a sale to institutions early next week. If they meander around at the current level or drift down, the symbolically important first phase of privatisation will probably happen in September or October.
Update 10:00
There are a few more interesting things to say about Lloyds rehabilitation.
First, it is accelerating its net lending to small businesses, at a time when the market continues to shrink. Its stock of loans to small and medium-sized businesses was 5% higher at the end of June than a year earlier.
Second, the widening in its interest rate margin (the gap between what it charges for loans and its own costs to borrow) is largely about a reduction in the rates it has to pay to attract deposits (or to put it another way, this is about meagre returns for savers rather than higher interest rates for borrowers).
Third, the return on its marginal lending is above its cost of capital. In other words, it is able to expand and increase its strength, by accumulating additional capital when it grows the bank as a protection against future losses. This is extremely important, for the confidence of investors and savers, because since the crash banks have found it very challenging (ahem) to earn their cost of capital.
Fourth, although Lloyds is still shrinking the overall size of its mortgage book (net mortgage lending has been shrinking) that is expected to end imminently and net mortgage lending is expected to become positive in the autumn. Because Lloyds is the UK's biggest mortgage lender, that matters, for the health of the housing market.
Fifth, Lloyds' balance sheet is strong: its capital ratios, a test of financial strength, will be better than Barclays', even after Barclays raises all those billions of additional equity capital.
Sixth, there has been a dramatic reduction in its stock of stinky, bad, non-core loans and investments. These were a peak of £250bn at the end of 2008, and are expected to be less than £70bn at the end of the year. And in this £70bn is £30bn of self-certified mortgages (which Lloyds no longer offers any more, because the practice has been discredited) where the borrowers have been keeping up the payments and so they probably don't need to be seen as low quality loans.
Seventh, on 9 September, and with a great £30m splurge on advertising and rebranding, Lloyds will launch the bank that it plans to float on the stock market as a new competitor to all banks. It will put the old TSB name on 630 branches, which will have their own separate computer system, employees and customers (not all of whom are necessarily overjoyed to have been told they are now TSB customers rather than Lloyds customers).