Australia to hike tobacco taxes to raise $4.7bn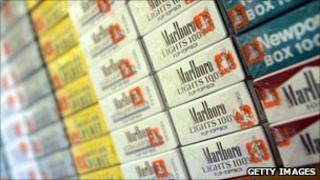 The Australian government is to increase taxes on tobacco, raising A$5.3bn ($4.7bn; £3.1bn) as it seeks to offset a revenue shortfall.
Prices will rise by 12.5% per year for four years starting from 1 December.
The government said the move would also provide funds for treating cancer and providing stroke-related services.
The Labor party is expected to update budget figures on Friday, as it prepares to announce a date for an upcoming general election.
The government has struggled to return the budget to a surplus, despite promises to do so, because of a strong currency and falling commodity prices.
Treasurer Chris Bowen said the move would achieve "several purposes".
"It will provide funds for cancer and stroke-related health services, it will deter young people from taking up smoking, and it will help return the budget to surplus," he said.
It adds to Australia's move to introduce plain packaging for tobacco products in December after a landmark High Court victory again major tobacco firms.
Some analysts said the announcement was aimed at boosting the government's financial credentials ahead of the upcoming election.
Kevin Rudd, who successfully challenged Julia Gillard for the ruling Labor Party leadership last month amid dismal polling figures, has not yet specified when the election - originally set for 14 September - will be held, but it must take place by 30 November.