Federal Reserve sees pick-up in US growth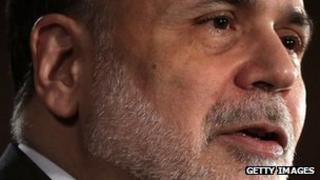 The Federal Reserve has maintained its huge bond-buying programme and has predicted a pick-up in growth in the US economy.
It said that it would hold its key rate at near zero and keep buying $85bn (£56bn) in bonds every month to help lower long-term interest rates.
Markets have been debating when the central bank will end this programme.
Earlier, official figures showed that US economic growth for the second quarter had been more than expected.
The Commerce Department said the US economy grew at an annualised rate of 1.7% in the April to June period, a faster pace than expected and up from a revised 1.1% in the first quarter.
The Federal Reserve said the economy "expanded at a modest pace during the first half of the year".
"The Committee expects that, with appropriate policy accommodation, economic growth will pick up from its recent pace and the unemployment rate will gradually decline," it added.
Federal Reserve chairman Ben Bernanke had suggested in May that the central bank might end its bond-buying programme, which led markets to fluctuate wildly.
By buying up bonds, it has tried to lower long-term interest rates in the hope of spurring economic activity. Lower long-term interest rates should encourage consumers and businesses to take out loans for anything from homes to new equipment.
The Federal Reserve lowered the jobless rate at which it would consider raising interest rates to 6%, down from a prior figure of 6.5%. The jobless rate is currently 7.6%.
Jobs growth has averaged 202,000 a month since January, up from 180,000 a month in the last six months of 2012.