Siemens new boss promises to return 'order and calm'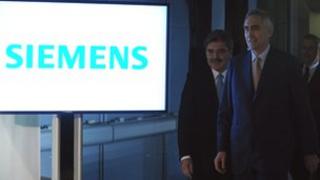 The new boss of the German engineering firm, Siemens, says his priority is to stabilise the company after its former chief executive was dumped this week.
Joe Kaeser was promoted from finance boss to chief executive on Wednesday.
He said he would focus on this, rather than profit levels, in the coming months.
Siemens bumped its former chief executive, Peter Loescher from the job after the company issued another profit warning last week.
Last week, Siemens, whose products range from gas turbines to trains, said it no longer expected to reach a profit margin of at least 12% for the next financial year
Mr Loescher, who was contracted for another four years in the top job, will stay on until the end of September.
Mr Kaeser told reporters: "Whether we have 12% or 10% in the end is not the only relevant aspect. What is really important is that we close the profitability gap with competitors and that all measures are structurally goal-oriented beyond 2014."
He has been at Siemens, Germany's second-biggest company by value, for more than 30 years.
The company brought forward its results from Thursday to coincide with the management announcement.
The figures, for the third quarter to the end of June, showed its profit margin shrank to 6.5% from 9.2% a year ago.
The company has 370,000 employees and has a presence in 190 countries.