Taylor Wimpey sees record orders for homes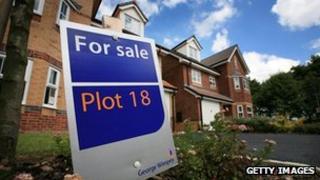 Orders for housebuilder Taylor Wimpey homes have hit record levels supported by the government's Help to Buy scheme.
While the builder sold 5,191 homes in the first half of the year, a rise of just 2%, it saw orders increase by £1.3bn and a 42% boost to profits.
It said 1,300 homes - 17% of new orders - have been reserved so far under Help to Buy.
Critics, including the former Bank of England governor, warn the plan could prove problematic in the future.
Help to Buy is a scheme under which the government grants an interest-rate free loan for a home of 20%, a mortgage is needed for the next 75% and the buyer provides a deposit of just 5%, compared with the 20% or so commonly demanded by lenders during the credit crunch.
The former governor of the Bank of England, Mervyn King, and Taylor Wimpey's chief executive, Pete Redfern, have warned of potential problems with the scheme if it is allows to go on indefinitely.
Mr Redfern said earlier this month that it could be a "genuine hazard" to the economy unless the government limited its run.
Activity
However, the company called the housing market "much improved and healthier" and said there had been a "meaningful increase" in demand.
It said its underlying pre-tax profits had risen to £109m in the first half of the year and that its profits for the year would be at the top end of investor expectations.
In common with other housebuilders, Taylor Wimpey has suffered from the credit crunch, which caused banks to hold back on granting mortgages as they attempted to reduce their exposure to bad debts and rebuild the reserves they hold against future problems.
The company also confirmed it had written back £34.1m on land holdings, whose value was reduced by the slowdown, which began five years ago.
Its results are in line with reports from other businesses active in the housing market.
The latest report from the Halifax, the country's biggest mortgage lender, said that house prices were rising at their fastest rate for almost three years and Taylor Wimpey said average prices for private home sales had risen 8% to £205,000.