Peugeot warns European car sales will fall further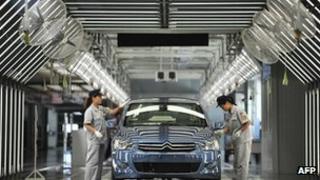 Peugeot-Citroen says it is making progress with its European restructuring as it predicts further falls in demand on the continent.
The company says overall car sales in Europe will fall by 5% this year.
It reported higher operating losses for the first half of the year but pleased investors with a fall in spending, which shrank to 51m euros (£44.5m, $67.6m) from 449 million a year ago.
Peugeot shares were 7% higher in morning trade.
Peugeot-Citroen, which is about a third of the way through its plans to cut 11,200 jobs, is predicting sales growth of 10% in China, where it is increasing the number of production plants to four.
The company also recently entered an alliance with the US's General Motors, which it said was already beginning to reap benefits.
The company's chief financial officer, Jean-Baptiste de Chatillon, said the turnaround plan is "going more quickly than expected", although he added that there was still "a lot of work to do".